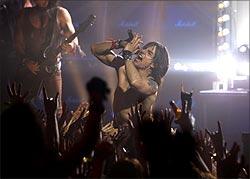 Rock Of Ages is  like digging into a scrumptious chocolate croissant. Take out the sinful goodness of the rich Tom Cruise filling and you're left with only bland crumbs of bread, writes Sukanya Verma
Bring out those Tom cruise posters, the man's ready to be plastered on those lifeless walls and inanimate wardrobe doors once again. Coz it's Stacee-time!
From Maverick to Stacee Jaxx, the gummy grinner hasn't lost an ounce of his allure but his definition of bad ass heroics and big screen adventure has positively undergone a wicked upgrade. What remains consistent is his talent for astonishing his viewers when he chooses to play it twisted. Be it as luxury-loving vampire (
Interview with the Vampire
), gyaan-lending sex guru (
Magnolia
) or a potty-mouthed film producer (
Tropic Thunder
).
As the 80s-themed sensation championing the cause of rock and roll in skin-smothering leather, tattoo embellished torso and semi-emo makeup, Cruise is every bit a gorgeous, glamorous, overblown megalomaniacal debauch with a heady entourage of naked groupies, burly bodyguards and a temperamental baboon called Hey Man. But for all his over-the-top, oversexed pomposity that makes light of an era of 'sweat, ear-shattering music and puke' and its patent icons, Cruise plays an Axl Rose-reminiscent Stacee Jaxx with never-before-seen sleek eroticism.
And boy, can he carry a tune? His spontaneous sing-along session to a car radio blasting Tom Petty's
Free Fallin'
hardly confirms his capabilities as a possible frontman for epic bands like Def Leppard, Bon Jovi and Guns 'n' Roses. But his covers (and on-stage gig) of their popular songs like
Pour Some Sugar On Me
,
Wanted Dead
or
Alive
and
Paradise City 
simply blow your mind. From rock climber to rock singer, is there anything this man cannot do?
Pity how the musical itself doesn't resonate any of the quirky, stupendous qualities of its most famous cast member or other meritorious supporting acts by Alec Baldwin, Russel Brand, Paul Giamatti, Catherine Zeta-Jones,
Mary J. Blige and Malin Akerman.
 With a music video of a plot, director Adam Shankman's (of
Hairspray
fame) star-studded musical packs in every conceivable cliché to go.  Boy dreamer-meets-girl dreamer in the dream-populated metropolis of Los Angeles, dreaming up a rock idol status. They try to achieve this doing menial jobs at a broke nightclub on the famed Sunset Strip until they are rudely interrupted by a lame misunderstanding.
It's only when
Rock of Ages
sidelines the lovebirds, Sherrie and Drew (Julianne Hough, Deigo Boneta are earnest enough but lack the poise to hold up against its starry supporting cast) and their two-hour long banal romance to concentrate on its more exciting sub-plots that it begins to modify 'rock' from a genre to a verb.
Even if only fleetingly, Shankman pitches in interesting secondary plots relating to morality-driven protests  triggered by the 'satanic display' of rock culture as well as the awkward transition of musical trends -- rock to pop.
Considering
Rock of Ages
is an adaptation of Chris D'Arienzo's Broadway musical of the same name, the narrative plays out as a foreplay for initiating rock anthems like
I Love Rock 'n' Roll
,
More than Words
and
I Wanna Rock
while the choreography, production design and costumes work like flashcards to unleash the wild and wacky face of the1980s -- leather, rhinestone, distressed fabrics, sequined boots, voluminous hair, studded denims, large buckled belts, fringed jackets, cowboy hats, star-spangled bandanas and, of course, that old-school raunchiness.
Ultimately,
Rock of Ages
is like digging into a scrumptious chocolate croissant. Take out the sinful goodness of the rich Tom Cruise filling and you're left with only bland crumbs of bread.
Rediff Rating: