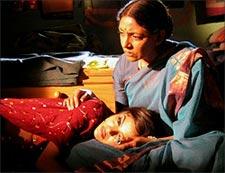 Ankur Pathak feels Rivaaz makes a mockery of the issue it deals with. Post YOUR reviews here!

In
Rivaaz
, two shoddily dressed 'youngsters' bump their jeep into a crowd of brightly dressed village women, but nobody's really hurt. One of the guys then starts clicking pictures randomly, looking amused, as if he has just spotted a rare species. This is the director establishing that the guys are
shehri
or city-bred.
The village belles are instantly recognisable as struggling models. Their costumes reminded me of Aishwarya Rai's in
Hum Dil De Chuke Sanam
. 
One of the guys, while clicking pictures from his jeep, falls in love with one of the belles, and within ten minutes, he is willing to marry her. In the next ten minutes, he is convinced that he is willing to sacrifice his life for the
gaon
(village)
so it gets rid of the prevailing
Rivaaz
(tradition). In another ten minutes, he is assaulted by bamboos and shooed away. This brings us to the part that this film is most desperate to address.
In this village ALL men just drink and enjoy life, financed by their daughters who are sold to shady politicians at prices ranging from Rs10,000 to 1 lakh. That is it. The men are offended if this
rivaaz
is protested by the women. "
Hum kya phir kheton mein hal chalayein
?" one smartie confidently argues. This is their whole reality. Nothing beyond the village exists for these chaps. Follow
rivaaz
or shut up or you will be flogged by bamboos.
In the meanwhile, the love between the just-met couple has reached impossible heights. The guy wears dirty jeans, an atrocious jacket with a tee inside and gets a gift wrapped in shiny pink paper. This is his idea of wooing the girl. In the
panchayat
, to demonstrate the same, the girl proudly flashes a clumsy tattoo (sketched by black pen)
that says, "Rahul". 
If you are curious to hear the story, don't be. There are ridiculously hilarious dialogues, disturbing yet funny characters, and embarrassing sequences in the film. Another scene worth mentioning in this film is where a middle-aged character is drinking away his misery, frustrated with life because he couldn't have a girl child. At one point, he gets mad, goes to his bed-ridden mother who is in need of medication and forces poison down her throat.
Nothing makes much sense. The dialogue delivery by all actors -- excluding some seasoned ones like Vijay Raaz and Alok Nath (who limp through the film) -- is so devastatingly amateur, you try hard to stifle a laughter even though this is supposed to be a serious film on a grave issue like forced prostitution.
That is the biggest tragedy of this
tamasha
. The unintended humour makes a mockery of the social issue it set out to tackle by way of this film. A badly made comic caper is excusable, but a sombre social drama so preposterous is simply unacceptable.
The villian in the story is a wannabe-royal Thakur, who has a thick, contrasting Maharashtrian accent. Thakur's the one believed to have started the r
ivaaz
. He keeps pictures of nude girls underneath his pillow and is caught and subsequently shot by his wife (Reema Lagoo, shattering). Police arrest her, and the media questions her. She decides to keep this burning issue a national secret.
Oh, c'mon they didn't want to end the film crediting the media. So it drags on till the village is burned down. A word to the director Ashok Kumar Nanda. Sir, this is not a film. At least not a serious one. Not a satire either. Not even a stage-show. I'm not sure what it really is. Prostitution, even when it's the subject of a joke, doesn't make me laugh. And here, I guffawed.
Rediff Rating: No Stars