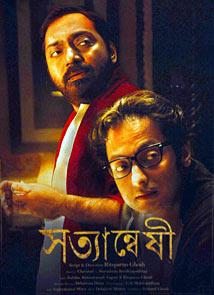 Rituparno Ghosh's swansong Satyanweshi is a bit of a letdown, according to Indrani Roy.

Dear Rituda,

You were conspicuous by your absence last evening as I attended the premiere of your much-hyped Satyanweshi at Priya cinema in south Kolkata.

I have no qualms in admitting that I walked in with a heavy heart and a lump in my throat. A dedicated fan of yours, I managed to watch almost all the films that you made and got a chance to analyse some during my rather long career in the media.

After expressing my views on Antarmahal way back in 2005, you had called me up, remember?


We had talked at length then about your kind of cinema and stories that draw your attention. You have always been a stunner, Rituda. You ushered into your crew great stars of Bollywood (even the likes of Amitabh Bachchan) and worked with them with effortless ease.

Filmmaking to you had always been a passionate experiment and you left no fragment of your imagination idle.

In your constant endeavour to dish out something novel, you chose to make Satyanweshi, based on the tales of a dhoti-clad, chain smoking private detective, Byomkesh Bakshi, penned by Saradindu Bandyopadhyay, and bought the copyright of three novels by him -- Ortham Onorthom, Chorabali and Uposonghar.

However, prior to your film, detective Bakshi made his debut on the Bengali screen with Anjan Dutt's Abar Byomkesh -- a film that had received mixed reviews.

While speaking to the press, you made it clear that though Satyanweshi was broadly based on Chorabali, it drew inspiration from Bandyopadhya's other creations as well.

Avid reader that you were, Rituda, you know pretty well that audiences in Bengal are extremely possessive of both Feluda (immortalised by Satyajit Ray) and Byomkesh.

Hence, dealing with them is never easy.

But the braveheart that you were, you neither hesitated to create your own Byomkesh nor feared to cast Kahaani director Sujoy Ghosh as the protagonist. But to be honest with you, you made a historical blunder there.

For if Ghosh had won the hearts of India with the nail-biting Vidya Balan-starrer, he is sure to draw as many brickbats as an actor in this film.

Ghosh would do the film industry a big favour by staying firmly behind-the-camera for good. His pathetic oh-my-god-I-am-an-actor-now look throughout the film was simply unbearable.

He managed to maintain an indifferent, unimpressive dead-fish like stance from start to finish even while he was unravelling a 'knotty crime'. As a matter of fact, the entire cast struggled to act. It seemed as if each one was just reading out their roles.

For them, emoting on screen seemed as tortuous as weightlifting. How could you let this non-acting pass, Rituda?

Was it ill health or lack of vitality or both?

You had such a wide and ornate canvas -- a palace with all its intricacies and complications, its weird inhabitants, a librarian, supposedly close to Aloka (the frigid wife of king Himangshu), who goes missing all of a sudden, loyal servants of the palace and a Machiavellian resident doctor.

All of Saradindu Bandypadhyay's novels are known for their taut plots, unfathomable mysteries and the brilliance of Satyanweshi (the truth seeker) Byomkesh's mind.

But why didn't you ever let that intensity show in this film, Rituda?

You have been a master at handling relationships. What went wrong here?

What was the purpose of creating Aloka's character?

She was just a mere mention in Bandyopadhyay's novel Chorabali, right? Why did you craft her?

All that she did was cast bored glances, mouthed snide remarks at her husband and made insipid passes at Byomkesh's associate Ajit.

Even singer Anindyo Chatterjee as Ajit (who made a mark in your Subho Maharat) did not get much to do apart from looking perplexed and blurting out incongruous interjections.

Indraneil Sengupta as king Himangshu did a fair job but got no assistance from any of his co-actors.

As for editing and cinematography, the least said the better.

Music director Debojyoti Mishra did a smart job and the three songs -- Rabindranath Tagore's Sukhohin Nishidin, your creation Taradim Taradim in Maithili and the third based on Kalidas' Meghdootam were the only redeeming factors of the film.

We, the film buffs, love you, Rituda.

You shall always be remembered and your films, barring this one, will remain in our hearts forever. If you were alive, you would have called me up for sure and vented your anger on reading this open letter.


But then, Rituda, it's you who taught us to be true to our hearts. And this last work of yours just dashed all expectations.

We miss you.

May your soul rest in peace.

Rediff Rating: