Ribbon fails to leave an impact, feels Urvi Parikh.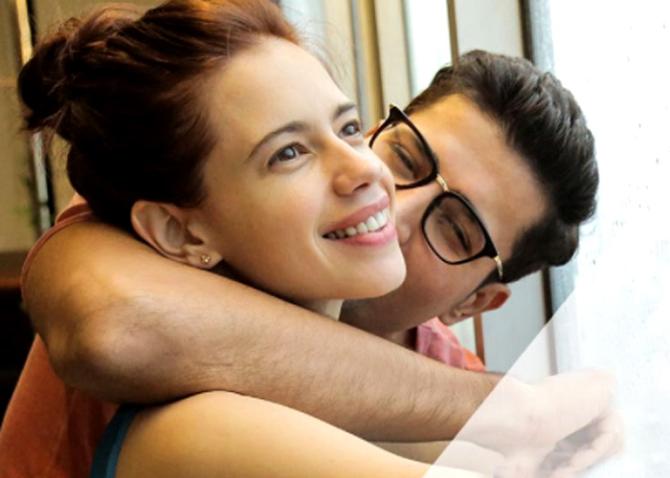 Most films in Bollywood are love stories that work through the struggle to get married and live happily ever after.
Rarely does a film delve deeper into the characters's lives after the honeymoon phase is over and reality makes its bitter presence felt.
Rakhee Sandilya's Ribbon is an interesting take on the everyday life of a much-in-love and hardworking urban couple, Saahana (Kalki Koechlin) and Karan (Sumeet Vyaas), trying to make ends meet in this concrete jungle called Mumbai.
They get caught in a tricky situation when Saahana gets pregnant accidentally.
While she doesn't want to take up the new responsibility because of her professional ambitions and the EMIs for their newly purchased house, Karan is very excited about the addition to the family.
Their difference of opinion, and the lack of clarity about having a baby, is nicely explored by the first-time director.
The scene where Kalki rages at Sumeet after she learns about the pregnancy underlines their characters; the former is impatient while the latter is calm.
Though the movie takes off on a good note, it abruptly fast-forwards to Saahana in her seventh month of pregnancy.
Soon, Karan and Saahana's world revolves around their new-born daughter, Aashi.
Despite the financial crunch, the young couple cope with the new requirements of a nanny or day care service. The sacrifices and compromises that parents make to raise their kids are nicely shown in this slow-paced film.
The movie also explores workplace sexism. When Saahana returns to work after her maternity break, the humiliation she faces at being demoted is well depicted.
Ribbon deals with the everyday life problems that a young couple goes through while trying to strike a balance between their personal and professional lives.
But the film fails at the editing department. The plot is jumpy in places and breaks the flow created by the stellar performance of the lead actors.
Ribbon's pace is unbearably sluggish. The first half could have been shorter, given that the plot's climax talks about a sensitive topic which needs more exploring.
Despite its length, the movie looks incomplete and patchy.
In terms of performances, Kalki is perfect as an ambitious working woman trying to make her dream come true. She wants to scream at her boss for his workplace sexism but swallows her pride because she needs the job.
At the same time, she is fierce about certain things and stands up for her child wherever she has to.
Sumeet puts on a calm act and shows the struggles of a young husband-turned-father well. You empathise with him on many occasions.
Despite its relevant premise, Ribbon fails to leave an impact.
Though the movie piques your interest in bits and pieces, especially in the second half, the abrupt end will leave you disappointed.
Rediff Rating: