Sukanya Verma feels the 3D version of Ra.One has nothing extra to offer.

Could. Have. Been.

Three ordinary words. Put them together and they'll convey sighs of wasted potential and needless disappointment. Could have been is the saddest category any film can fall in when it's too flawed to be terrific but serviceable enough to dub terrible and Ra.One is a classic example of the same. Pity how it squanders so much money, opportunities only to neglect fundamental requirements like a a taut, persuasive script.

Right from its first look to the official trailer, Shah Rukh Khan's grand venture in superherodom unabashedly flaunts its aspiration to liken it with Hollywood's iconic cyborgs and superheroes. Commendable, I'd say if only he had utilised the top-class resources to innovate instead of conveniently ripping off the most effective moments and ideas of its inspirations.
Can't say I am let down. Watching the aggressively-aired promos gave me a fair idea of what to expect. And so, purported budget and hype notwithstanding, I keep my expectations in check while stepping out to see SRK's expensive Diwali offering, inspired by his ardour for Aryan and Suhana (SRK's kids), in its 3D avatar. The end product, while never outstanding, is easily watchable and amusing in parts even if you're not Mr Khan's offspring.
Weak praise for a movie that claims to be costliest ever when it, again *could have been* so much more, no? So what's hurting this sleek albeit sloppy superhero extravaganza?
First off, this 3D bit is a joke. Handing the viewer a pair of lowly, plastic, ill-fitting anachrome glasses and expecting them to endure the discomfort for like, one worthwhile scene in its nearly three-hours running time is simply idiotic and nothing more than a money-milking scam.
Right in the beginning there's a scene with Shahana Goswami harping about dissolving the thin line between the real and the virtual at a seminar. Wonder if SRK even knows what that means anymore. He seems so out of touch with sense and substance. Sure, this is an exercise in SRK indulgence. Sure, he hogs nearly every single frame of the film. But is he so caught up in loosening his purse strings that his head stops asking the same questions yours does even though you've seen it only once? Or is there a dearth of honest opinions in the SRK camp?
That's a recurring difficulty with Ra.One. How do you judge a movie that doesn't even pretend to be intelligent?

Doesn't he keep track of the latest trends in Hindi cinema? No one finds caricatures, especially regional ones, funny anymore. Making his character a Tamil one just so that he can spew 'Aiyoh' and 'Ingaah vaah' at every rotten opportunity is so outdated. (Funnily, the minute the scenario gets a bit serious, SRK's accent miraculously disappears.) Making his wife's character a Punjabi one who's writing a thesis on gaalis (profanity) is even cruder, especially when your target audience is children.
That's not my only gripe. Even a fantasy is explained out via its own twisted logic. So how in the world does a computer programme begin to think for itself at a developing stage? And how can such a supremely sophisticated game turn out to be so elementary that even a school kid can create it from scratch?
I would willingly submit to this logic if it was supported by some reason or motive. Not a single character is well-defined resulting in half-convincing personal equations and emotionality.
Instead of finding out what goes on in SRK, the father's mind as he devises an all-powerful game that would make him notable in his indifferent son's eyes, all you get is a silly song to establish the making-of-Ra.One.
Surely, there's a dual tone to him that makes Ra.One so incredibly indestructible and G.One, his do-gooder counterpart an exceptionally noble one with a Harry Potter-Voldemort-like connection.
Also, there's nothing in the script to validate his son's extraordinary genius beyond a regular kid's obsession of video games. No justification for the father-son's weird hairdos either.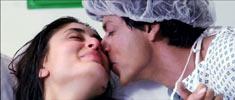 At one point, an exasperated Kareena Kapoor wants to know how can a game become real and take the form of a real person. Her son (Armaan Verma who would make a better impression if it wasn't for that Goldie Hawn-inspired mop on his head) calms her down by saying he'll explain later. He never does.
Ra.One, directed by Anubhav Sinha, lacks flair and individuality witnessed in previous SRK productions by other directors, especially Farah Khan. Odd, considering, Sinha's Duswas an engaging action flick with some definite structure to boast of. You'd expect him to give his everything for a project of this proportion. What you see could be directed by anyone, be it Sinha or Harmesh Malhotra. The latter would probably throw in a few cobras or two for effect.
It's strange how Ra.One's obsession to be a full-on SRK spectacle prevents it from acknowledging the attributes of the gaming sphere and its rapid growth and dependency among kids. It's one of the crucial elements of the plot yet treated with much nonchalance and insufficient detail. Blame it on the writing, which is basic, bland and silly to the extent of wasting a Rajnikanth cameo, the only time the movie hall comes alive with a thundering applause of claps and whistles.
Luckly, the SFX team does its job rather well, lending Ra.One its only wow factor, which is further intensified against Vishal-Shekhar's Raftaarein theme. The pre-interval action in London and Mumbai local train stunts are especially delightful.
But for all its ambition to match the technological gloss and grandeur of films like Terminator 2, Spiderman, X-Men, The Matrix and half a dozen other Hollywood blockbusters, Ra.One is essentially a Bollywood potboiler where even SRK, the superhero acts like SRK, the superstar.
The actor is characteristically charismatic, but tries too hard. A superhero is all about dry humour and witty/cheesy catch phrases and one-liners. Ra.One could have done better than 'Decision taken.' Also, his character graph is so disjointed. In the first half, he's projected as an absurd buffoon with a penchant for famous quotes. The second half is all about his blue-eyed robotic alter ego flaunting his stock of super powers.
Khan's titular nemesis, played by Arjun Rampal, is in terrific shape and exudes a perfect blend of menace and swagger. The only time the 3D effect comes alive is when he symbolically walks against a life-size Raavan effigy. Slick.
The real scene stealer of the show is Kareena Kapoor. The camera just loves the actress and captures every move of her Goddess-level luminosity with unfailing precision. It's not a very demanding role but she does her best to keep us distracted from spotting the loopholes. And in one of Ra.One's most jaw-dropping moments, you see a side you never knew she had and will remember for days to come.
And Ra.One? Like I said, could have been this, could have been that. For now, it will stay the costliest ever till another one comes along. Until that time, Chitti babu ki jai ho.
Rediff Rating: