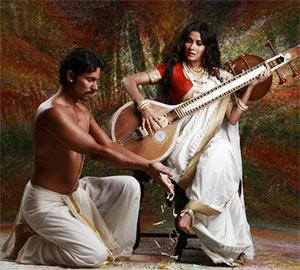 Rang Rasiya is not a consistent film, but one that tells a story of a pioneering artist and visionary, a story decidedly worth telling, says Raja Sen.
Censorship is an utterly pointless and regressive activity, and we Indians have always been good at it.
Good at said pointlessness, that is, not at actually establishing some sort of sensible organisation that knows the meaning of the word 'context'.
Ketan Mehta's film Rang Rasiya, a biopic of the artist Raja Ravi Varma, deals with artistic censorship, a subject that remains immensely relevant in a country where filmmakers are asked to cut out dialogues and trim scenes by 20 percent just cause the censor board said so.
The movie opens with a courtroom scene, one that reminded me of Howl, the James Franco-starrer about Allen Ginsberg's obscenity trial. A compelling film, it concentrated on the fascinating case -- recreating preposterous but real-life court transcripts -- and, on the side, explored the beat poet's life, love and history.
The story, however, was always the trial and I wish Mehta too had kept the courtroom front and centre in his film instead of trying to give us a concise life-and-times or a treatise on censorship instead of both.
That is the fundamental issue with Rang Rasiya: it starts off as a condensed biopic, theatrically moving from one milestone in the artist's life to another, with scarcely any time to breathe.
It is a fascinating life, sure, but this narrative progression -- with long stretches devoted to mediocre songs and dramatic moments constantly underscored by overdone background music -- plays out like a school play, with bad costumes, clunky lines and no detailing.
Randeep Hooda, who plays Raja Ravi Varma, is solid but the film around him is eye-rollingly overdone. Like the books we see as background in a study, leatherbound hardbacks with nothing written on them to distinguish one from the other, the film appears spineless.
Thankfully, the second half of the film, where the courtroom battle comes more sharply into focus and the narrative of his life actually gets going, is genuinely interesting. Portions where the artist took an interest in the cinema, for example, bustle with energy. Even the background score gets jauntier.
Hooda inhabits the character quite impressively, doing well especially to keep his body language consistent even as he ages considerably.
The first half, as said, rests entirely on his shoulders, and he -- like the audience -- has noticeably more fun post-intermission.
Nandana Sen plays Sugandha, a fascinating muse figure pathbreakingly bold enough to bare herself so the artist could paint the stories he most cherished.
At a time when Hindi cinema still blushes at the thought of a nipple, Sen -- in one tasteful, elegantly shot scene -- exposes herself and, like Sugandha, puts herself out there so we can all dwell on the censorship issue. It is a fearless, uninhibited performance and Sen is particularly well-cast because of how well her classical features suit Varma's paintings when transposed upon them.
Rang Rasiya is not a consistent film, but one that tells a story of a pioneering artist and visionary, a story decidedly worth telling.
We need to treasure our creators and innovators, and while I wish the film was carved by the blade of the edgier Ketan Mehta (of Mirch Masala vintage), I'm relieved that at least films like these are being made and -- in relation to the exposure important in context of the censorship debate -- that we're getting to see them.
And one scene, in particular, involving a certain Indian cinematic pioneer gave me goosepimples.
One odd moment, however.
After Sen bares herself to Hooda and the two cavort passionately on the floor, painted merrymakers celebrating each other's bodies while a song plays, the scene ends with a topshot, with their painted, naked bodies lying against each other.
And while she lies there brazen and defiant, Hooda awkwardly drapes a leg around his own thigh in an utterly-misplaced bid for modesty. Perhaps, then, our censorship issues stem from the fact that our women are just fine, but our men can't quite deal with themselves just yet.
Rediff Rating: