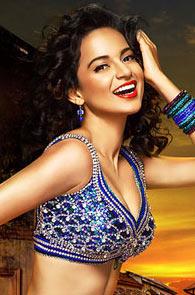 Paloma Sharma feels Rajjo is a bad patchwork of a story that borrows heavily from other films.

There's one thing that must be absolutely clear from the beginning -- Rajjo is not about Kangana Ranaut, Paras Arora or even love. The real star of Rajjo is the khanjar (dagger).

If you love survival games and venture into Rajjo, you should stay for the pained (and painful) performance towards the end of the film where Kangana asks "Kaleja hai hazir, khanjar kahaan hai?" while sticking her chest out and making stabbing motions with her hand.

The khanjar serves as comic relief in this romance musical. The rest of it, however, is better off being swallowed by the darkness of the theatre.

Rajjo is based on the timeless love/lust triangle -- we have a beautiful courtesan, her poor but sensitive lover and the heartless businessman who is hell-bent on acquiring her -- but that does not imply that the director (Vishwas Patil) couldn't do something new with it. It is sad that he chose not to.

Rajjo, the titular character, is a prostitute who lives in Mumbai's red light district and, in case you didn't know where that is, don't worry, the camera pans on the sign on the station that says Grant Road about three thousand seven hundred and forty three times in the film.

Chandu (Paras Arora) is a 21-year-old youngster who lives with mommy and daddy in far off Virar, away from Mumbai's "bad influences", and pursues his "ishtudy" in Viva College. He is also a talented musician and the captain of the college cricket team.

One day, after winning a cricket match, Chandu and his team mates are taken by their coach Dari to Nagpada's kothas where our young lad falls for Rajjo the moment he sees her on the dance floor in the mehfil.

Rajjo too ends up falling for Chandu and wants to run away with him. The young lovebirds must fight the big, bad world that threatens to come in between them.

Smells of Moulin Rouge all over.

The makers had enough material to work with given the setting of the story. However, there's a lot that goes unexplored -- Rajjo's trauma from being used as an object, Chandu's sheltered upbringing and inability to face the real world, the politics of the kotha and the despicable men who visit prostitutes.

Why Rajjo
falls in love with Chandu, who shows clear signs of being a total loser, is beyond me. Why, furthermore, the director chose to focus more on Chandu is a mystery I would rather not delve into.
Our 21-year-old lad from the neighbourhood (who also happens to be a punter) is played by 19-year-old Paras Arora whose ultimate flaw is that he does not, in any way, look even remotely close to being 21.
Arora sometimes looks like a timid, sacrificial child-groom in comparison to the dark-eyed, seasoned Rajjo.
Maybe, because Arora is young, he could be cut some slack for a below par performance. Maybe there is a good actor in Arora after all. But in order to deliver a good show, Arora must first stop emulating his favourite Bollywood heroes and start being himself.
Meanwhile, Kangana Ranaut struggles with her
Mumbaiyya
dialogues and is not as graceful in the dance sequences as one would have expected.
Mahesh Manjrekar and Prakash Raj are absolutely wasted in the film.
The film'sbackground score seems to have been borrowed from an Ekta Kapoor daily soap but the songs, although not potential chart-toppers, are entertaining nonetheless.
Let me also address some questions that the film leaves unanswered here:
1. It is supposed to be set in the 1990s but the movie hoardings that are shown on the cinema hall in the film are from another time. For example, what was the poster of
Memoir of a Geisha
, which released in 2005, doing there?
2. Why does Prakash Raj's character, Hande Bhau, praise Begum's kurta calling it red when it is clearly pink? Furthermore, in the next scene why does the kurta turn red?
3. Who is Dari -- coach, mechanic, owner of a garage? It is never really made clear.
4. Why does Rajjo turn into a
sanskari
,
pativrata
woman after marriage? Why does Chandu's mother blame her for his downfall and still eat food at her house? Why Chandu slap her across the face for dancing in a bar after marriage only in order to save him?
5. Why does Rajjo -- who has never taken things lying down even from customers or the feared Begum -- not say a word about it and goes back to him? Why do the film makers and the actors pretend that everything is perfectly normal about a man slapping his wife?
Rajjo
is a horribly confused film. It is shabbily edited to the point of seeming to be cut-pasted from different films. The story launches into too many tracks which almost never come full circle.
Rediff Rating: