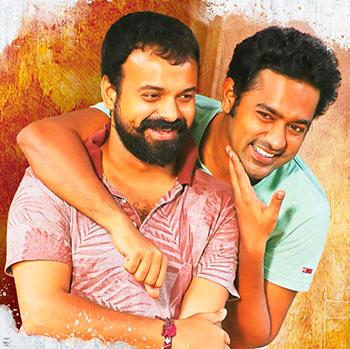 Rajamma @ Yahoo leaves the viewer confused, writes Paresh C Palicha.
If the title of a film could guarantee its success, Rajamma @ Yahoo will be a top grosser, thanks to its curiosity value.
Directed by Reghu Rama Varma, the film tells an age-old story of two brothers orphaned at a young age. Scriptwriter M Sindhuraj tries to pad it up but his efforts yield lacklustre results.
Rajamma (Kunchacko Boban) and Yahoo (Asif Ali) are lovable louts and live life as the men in Malayalam movies do these days: they drink and make merry.
They were brought up by some good people in their neighbourhood, led by Mammookoya. They inherit some useless property from their parents that cannot be sold because of lack of proper documentation. They rent out parts of this property to roadside vendors to safe-keep their wares at night.
They then decide to rent out the debilitated house to generate additional income.
The first ones to arrive are Nessy (Anusree) and her mother. Nessy is Yahoo's love interest, and the living space becomes clean and spotless.
The next arrival is a village officer (Kalabhavan Shajon) with his wife and mother.
Then comes Sherin (Nikki Galrani), who fills the space of Rajamma's romantic interest.
As per the information she provides, she has a nursing degree and has come to city to study English. She turns out to be a mystery girl and in the later stages of story, she becomes the typical damsel in distress who needs to be protected by the heroes from a powerful villain.
Sherin turns out to be the illegitimate daughter of Abraham Pothan (Renji Panicker), the all powerful mayor of the city, and her mission is to get a rightful share in his property. Our boys promise help.
As it is obvious, the story takes inspiration from many sources, and does not have an impact. The comedy is very slapstick.
In the last couple of films, Kunchacko Boban has tried to get the elder brotherly looks by growing his beard and twirling his moustache. He does the same here, and reminds us who he was once by whistling a tune from his first film Aniyathipraavu (1997).
Asif Ali does the typical mischievous younger brother act with ease as it doesn't demand much from him.
Anusree brings some sparkle on the screen with her presence.
By the time Rajamma @ Yahoo ends, it leaves the viewer confused.
Rediff Rating: