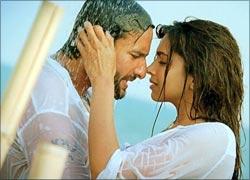 Prasanna D Zore feels Race 2 is worth a watch.

Tightly done action sequences, lots of glamour and one liners that cater to the classes and the masses is what makes Race 2 worth a watch.
Thankfully, after a long time the director duo of Abbas-Mustan have got a winner in their hands with this sequel as they handle this suspense-thriller with the panache that reminds audiences of Baazigar and Khiladi.
Beautiful locales that spin across Turkey add to the visual treat even as Deepika Padukone and Jacqueline Fernandez, with their beautifully-sculpted bodies add to this tightly woven story of betrayal and survival. However, these two gorgeous damsels need to do more if they want to be taken seriously by their fans as well as Bollywood.
The surprise package of the film is the fruit-chomping Anil Kapoor and his nutty assistant Ameesha Patel. Anil Kapoor with all his vulgar one-liners caters to the masses; so does his horny assistant Patel as she keeps seducing her boss whenever the duo get screen time.
The real treat of the film, however, are the lead actors -- John Abraham and Saif Ali Khan -- as they intelligently plot against each other: one to seek revenge and the other for his lust for money.
One needs to make a special mention of the on-the-foot-then-car-and-boat chase between an assassin and Saif, ala Jason Bourne style as they whiz past stylishly making you believe the chase is for real. Another edge-of-the-seat sequence is when Saif diffuses a bomb -- remember Keanu Reeves in Speed -- from under a car as Deepika speeds amidst chaos all around.
That's definitely a first for a Bollywood film to have such incredible chases and yet make them believable. If at all Salman Khan decides to make a sequel to Ek That Tiger, one would request him to get the action director of Race 2 on board and erase the bad memory of a similar Jason Bourne-like chase in Ek Tha Tiger.
While the ensemble cast has done a super job of making a gripping thriller -- would call it a thriller rather than a suspense-thriller because the suspense is very predictable -- after a long time in Bollywood, the climax and music are the two sore points of the movie.
While the music jars your senses, the climax action sequence aboard a private jet makes one feel like watching a circus: especially the scene when Saif and Deepika dash out of a plane on fire and four chutes spring out to take them to safety.
One must then watch Race 2 for Saif, who with his polished dialogue deliveries and smart one-liners, Abraham, who has played a scheming businessman with aplomb and of course for all the three ravishing ladies who also know how to act.

Rediff Rating: