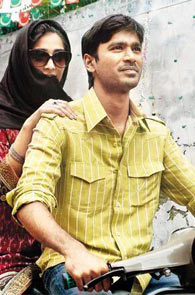 Raanjhanaa isn't easy viewing but works thanks to Dhanush's powerful performance and A R Rahman's score, writes Sukanya Verma.

'When a man loves a woman, can't keep his mind on nothing else.' The Percy Sledge classic sums the spirit of Aanand L Rai's new romance to perfection.

In Raanjhanaa, a guy from Benares tests his owns limits to the extent he'll go for the girl he's been besotted by ever since he was a little boy. Endeavours that begin this early have a way of getting out of hand and exasperating.

But Rai has Dhanush -- wonderful, tangible, indefatigable Dhanush, and the actor in his first Hindi film holds fort from start to finish.

This is his story -- complicated but transparent, one that you may be inclined to feel judgemental about but one that you'll see from his perspective. Eventually.

What I liked: After depicting a flair for blending a backdrop's flavour in the Kanpur-themed narrative for Tanu Weds Manu, Rai extends his aptitude to introduce the verve of Varanasi in Raanjhanaa without making it too in-your-face. Moreover, since the film revolves around locals, doesn't make sense to capture the visuals (by N Nataraja Subramanium, Vishal Sinha) like some wide-eyed tourist. But the playful hues of Holi and a generally colourful palette that defines the city of temples fills the frames for most part till the story shifts to misty winters in Delhi's Jawaharlal Nehru University campus.

Narrated in flashback, Dhanush recalls the first time his Kundan's kiddie version (a jovial Naman Jain. Also played Katrina Kaif's fan in Bombay Talkies) laid eyes on THE object of his affection.

But it Kundan's pursuit of her (Sonam Kapoor in a chequered pinafore) as a ninth-grader (Dhanush), where he watches her imitating Madhuri Dixit's popular Ek, do, teen/Channe ke khet mein steps or breaks into a spontaneous, ecstatic jig to Coolie's Humka ishq hua hai yaaron after she slaps him more than one and a half dozen times to relent and reveal her name, Zoya, which packs in some ad lib humour. The second phase of their interactions has its moments too. There's a charming scene where an amused Zoya (that's Sonam) is standing on the balcony while our man dumb charades his way to refresh her memory.

Contrasting personality isn't some gimmick in Raanjhanaa.

The idea is to depict a connection between two individuals developing with a different set of priorities. While one grows up, and in the process grows out, of the comfort zone to evolve, the other remains dedicated to a single-minded aspiration.

Sonam and Dhanush have a peculiar chemistry. It's neither simmering nor constrained but bears a quaint mystery, which deepens as they alternate to justify and contradict their actions.

A nose-ringed Sonam looks like a dream even in regular attire of kurta, jeans, cardigan and stole. She does well in the light scenes but somewhat conscious when trying to seem vocal about serious, socio-political
issues.
Abhay Deol, though not relegated to a guest appearance, works as both -- the snag in the story and a charismatic ideal
Raanjhanaa
insists upon. Rai picks a solid actor for the role even if the payoff isn't particularly satisfying.
What I loved: Dhanush and A R Rahman.
Music, here, is truly the food of love. Rahman's understanding of the distress, intensity and anxiety of tender emotions often supersedes its director preoccupied with stuffing glamourised clips of active student politics.
The latter could be handled with a lot more tautness and better presented arguments, which invite the same criticism as one of the members in the headstrong crowd -- over simplification of complex issues, I get what Rai is trying to do -- craft a hard-hitting finale for his tale of a man's passion and penance.
If Rahman is
Raanjhanaa
's discerning soul, Dhanush is its explosive heart and nimble body. There's a scene involving him, Deol and a gas cylinder. It's subtle, funny and says volumes about his Kundan.
Dhanush's Hindi is wobbly but surprisingly grows on you even as his vigour burns the screen whether he's clumsily asking out Sonam on his bike, joyously gate crashing a wedding procession or biting his lips in agony when affronted by the one he's wronged.
In reality as opposed to movies, people are changeable, making their mind, prone to think differently at different junctures,
Raanjhanaa
's protagonists embody this impermanence and that's what makes it unpredictable, startling. What I disliked: For all its romantic zeal,
Raanjhanaa
treats its women rather roughly.
Strangling someone in embrace, twisting arms to prove a point is not cute. Not romantic. Not done.
Ironically, during a street play, Sonam brings up the issue of eve-teasing and how casually it's treated in this country.
It's uncomfortable to watch the frequency at which the talented Swara Bhaskar (playing Kundan's smitten, short-tempered childhood companion) is smacked by her male buddies (including an impressive Mohammad Zeeshan Ayub rattling off the punch-lines) as well as the abusive nature of their bonhomie.
In one scene, she tries to seduce Kundan only to be rejected with a crude, 'Kundan
ke pyjama ka naada itna bhi kamzor nahi ke tere do hook khulne se dheela ho jaaye
.'
Also, alarming is the regularity with which wrists are slashed. It's ridiculous how one rebukes another as '
Jaahil/Ganwar
' for making suicidal moves and two seconds later is crying hoarse about laying life if they can't marry the one they desire.
What this tells you:
Raanjhanaa
isn't easy viewing. Kundan and Zoya aren't easily likeable. They have flaws. They make mistakes. Blunders, really.
But Rai shows them for what they are; he never paints a pretty picture. And this brutal honesty coupled with a commanding Dhanush is what works.
Rediff Rating: