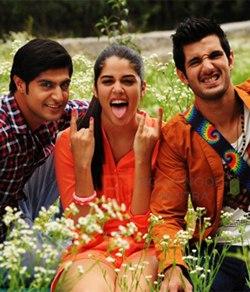 Purani Jeans lacks vision, originality and the spunk one expects from a college romance film, says Paloma Sharma.

Purani Jeans is one of those rare films that leave you speechless with their blatant indifference towards making themselves work.
Let us, however, in the spirit of constructive criticism, begin with a list of things that went wrong in this case.
Tanuj Virwani -- the film's main lead -- would be the first one on the list.
If you've made your acting as the male lead of a film called Luv U Soniyo, it really isn't so hard to understand that you might want to consider an alternative career.
Despite having scenes after scene played out in his favour, Virwani refuses to make any kind of legitimate effort to act -- unless you count random facial twitches and a permanent scowl.
The leading lady/block of chalk in a dress, Izabelle Leite, pretty much follows Virwani's school of acting -- except that instead of frowning she has a hint of a smile on her face at all times.
I'm sure whoever dubbed for Leite tried their best to make her sound good but the kindest thing I can say about her screen presence is that it is awkward. In one of the better scenes from the film, Leite looks like she's walking in a cosmestic advertisement instead of acting in a film.
Aditya Seal, the third corner of the love triangle, surprisingly makes an attempt and might even succeed at getting your sympathies. Not quite the best actor in the world but in a film that stars Virwani and Leite, even a squirrel could act.
Seal plays a spoiled brat from a broken family and the displays of anger sometimes feel so forced that you want to barf but he gets through the climax quite well.
Directorial debut of Tanushri Chattrji Basu, Purani Jeans takes place in the sleepy town of Kasauli where, in spite of being in Himachal Pradesh, everyone speaks Punjabi, there's even a shop called Punjab sweets and Nepali servants wear Pahari topis.
I guess Basu forgot to check on the map that the state of Himachal Pradesh is not quite the same as Punjab. However, she won't be the first one to take for granted the myth that everything above Haryana and below Kashmir is the land of kukkad (chicken) and chaar botal (four bottles) vodka.
In Kasauli of 1996, there exists a very lame clique of very lame young men who call themselves the Kasauli Cowboys.

Not only that, they also have equally lame nicknames for each other -- Sushil Sharma becomes Suzie, Balwinder Singh Shekhawat gets to be Bobbly, Tejinder Singh Khaturia turns into Tino and Siddharth Ray (Virwani) is Siddy Boy.
Their best pal in the whole world is the London-returned Samuel Lawrence Joseph (Seal), whose alcoholic mother (Sarika) goes by the name of Sherry.
Sam and Sid love each other very much.
But they also love the same girl, Nayantara.
Despite coming from a female director, Purani Jeans strikes as misogynistic in tone.
The Kasauli Cowboys have an oath that includes the lines "Always marry a virgin" and "Never touch another cowboy's girl".

Furthermore, drunk, molest-y behaviour is deemed normal and Tino and Suzy's disgusting overtures at a blonde exchange student are laughed off with the 'boys will be boys' argument because blondies badi acchi lagdi (blondes look very good).
The film makes a weak attempt at bettering their image by showing how one of them once helped a girl through abortion of a child that wasn't even his and how one of them went on to become a war hero, despite leaving his pregnant girlfriend behind and denying that the child was his, as if every mistake ever made will be forgiven because they were young back then and because boys will, well, be boys.
The production design is no better.
Despite there being a scene where Sid explicitly states that he does not know who The Doors are since he's a small town boy who went to the local government school, the lyrics of John Lennon's Imagine are written over almost an entire wall in his room.
Furthermore, a character's birthday is shown to be on "the sixth" whereas the date on his tombstone is 21. Also, the casket seems too small for a grown man.
Another character, who is shown to be engaged, wears different rings in different scenes.
Wait, what?
Sense of continuity?
Who needs that?
Purani Jeans could have been a better film had it been shorter with better written characters. It is extremely difficult for anyone to connect with characters that come off as complete douches, since no one really wants to admit the same about themselves.
Purani Jeans assembles all the clichés from erstwhile college romances and puts them together as an abomination of a film.
Unabashedly sexist, regressive, poorly researched and lacking the punch a college romance film is supposed to pack, Purani Jeans can easily give Yaariyaan a run for its money when it comes to being the worst film in the recent history of bad films.
After watching Purani Jeans for 138 minutes, I have decided to discard my denims.
Trousers forever!
*Insert fist bump*

Rediff Rating: