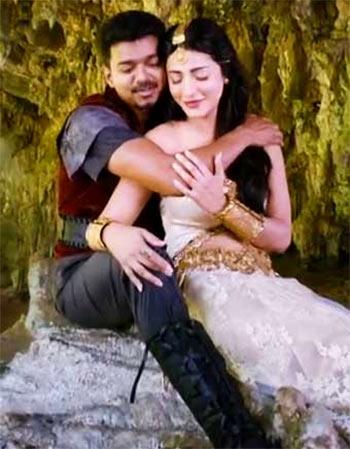 Puli is an uninspiring fantasy adventure film, feels S Saraswathi.
Fantasy adventure film Puli managed to generate a lot of intrigue, thanks to presence of diva Sridevi, who returns to Tamil cinema after 29 years. But despite her effort, the film has nothing to hold your attention.
Director Chimbu Deven takes his own time to get to the plot of the film, which is quite stale. Extremely slow-paced, the film narrates a good versus evil story of a lost son returning to claim his rightful place in the family.
Sridevi plays Yamanadevi, queen of the fantasy kingdom of Vedalakottai. She belongs to the ferocious clan of Vedalam warriors, but is under the spell of its evil general, Jalatharangam (Sudeep).
The clan wields magical powers that grant them superhuman strength and the ability to fly at will.
All the surrounding villages are under their control and one such village is Vairanaloor.
Here, we are introduced to Marudheeran (Vijay) and his lover Pavalamalli (Shruti Haasan).
Marudheeran is an orphan brought up by one of the villagers, Vembunathan (Prabhu). Their village is frequently troubled by the Vedalam clan, who come to collect taxes. During one such skirmish, Vembunathan is killed and Pavalamalli is kidnapped.
The second half is all about Marudheeran going in search of this elusive kingdom to bring back his beloved Pavalamalli.
There are a host of supporting actors Thambi Ramaiah, Sathyan, Imman Annachi, Vidyullekha Raman and Robo Shankar trying to outdo each other in their bid to evoke some laughter, but fail miserably.
Hansika, who plays Sridevi's daughter Mandakini, puts in a brief appearance post-interval while Shruti Haasan adds to the glamour quotient in the first part.
Sridevi effortlessly outclasses these youngsters with her immense style and admirable performance.
Vijay, however, is not at his best. For most part, he seems awkward. The film is peppered with dialogues that hint at his political ambitions.
Cinematographer Natarajan Subramaniam deserves credit for capturing the best of both, the spectacular natural locations, as well as the fairy tale like sets.
Director Chimbu Deven is known for his simple, yet unconventional films, most of which have done quite well. But working with a mass hero like Vijay seems to have taken its toll.
The film ends a compromise that does justice to neither the director nor the actor.
Rediff Rating: