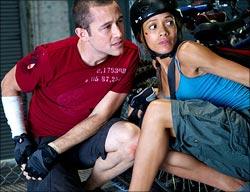 Raja Sen thinks Premium Rush is a very tight film.


At a time of overtly high-concept films, films that look like something but are defiantly something else entirely, films that mashup various genres and films that remake or adapt (or do both), it has become increasingly difficult to find one film that does one thing, and does it well.
Premium Rush
is a chase film -- straight-up, zippy and pumped full of adrenaline -- and meets those basic ambitions wonderfully thanks to its two leads, the director David Koepp's attention to detail, and the wonderful way cinematographer Mitchell Amundsen makes bicycles into movie stars.
So yeah, it's a chase. And as chases go, it's a keeper. All the basics are in place: ticking clock, a surly villain (so surly he's named Monday, even), and a very picturesque backdrop in New York at its sunniest and most traffic-choked.
Stylistically, it combines
Zombieland
overlays and Guy Ritchie's
Sherlock Holmes
style 'instant' foreshadowing to very sleek effect, and while there are some glaring flaws -- some melodramatic, badly written malarkey about Chinese hawala-men; and a team of bike messengers who unite like the cast of
West Side Story
--
the overall effect is snappy enough to delight, taut enough to constantly thrill.
The impressively chameleonic young star Joseph Gordon-Levitt (who was spectacular in last week's terrific
Looper
) is so good here despite the limitations imposed by film and character that he elevates the film to a different level, his body fluid and supple, his athleticism overwhelmingly natural.
On the basis of this film, he could genuinely be a helluva bike messenger (though $50 a delivery might not work that well for him).
Meanwhile, the ever-excellent Michael Shannon here takes a campy scowl and plays a stereotype so authentically that he inspires genuine loathing.
Knowing anything more would be pointless: fast bicycles, good actors, a very tight film. Go ride.
Rediff Rating: