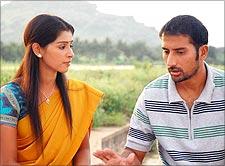 Pavithra Srinivasan writes that Tamil film Potta Potti has a Lagaan hangover. Post YOUR reviews here!

Until Lagaan came along, cricket-based movies were pretty rare, considering the fact that the sport is our national religion.

Still, the Aamir Khan movie became a blockbuster -- thereby ensuring the fact that any rural cricket-oriented movie would have its flavour. Which means that AVR Talkies' and Flicker Studio's Potta Potti, though directed by Yuvraaj with sincerity, pretty much falls into the same bracket.

Fortunately, the beginning is a blast: you've got Sachin Tendulkar victoriously waving a bat to public adulation -- and indeed, the movie is dedicated to his ardent admirers.
After that, it's a swift retreat to the rural wilds of Upparappatti, in Tamil Nadu, the various humdrum lives of Kodaivaanan (R Sivam), and Kolai Vaanan (Umar), both bigwigs in the village, permanently at each other's throats.
Their enmity extends towards Ranjitham (Harini), their cousin and the daughter of the village's resident rich man. So often do the comical Kodai Vaanan, and the villainous Kodai Vaanan come to blows that the village eventually decides there's only way to resolve things: have a cricket-match between the two. Whoever wins gets the riches and the girl. Never mind that the girl doesn't like either of them -- and this is a fact that's used with much humour by all characters concerned.
Into the hilarious melee tumble the respective teams' cricket coaches, for neither of the two teams has the vaguest idea about how to play the game (something you find difficult to believe, considering the day and age).
Kolai Vaanan's team ends up with the hilariously idiotic Harichandra (Mayilsamy) who doesn't know one end of a bat from another, while Sadagopan Ramesh himself ends up coaching Kodai Vaanan's team, with many hilarious episodes concerning his sidekick, Avathaaram (Avathar Ganesh).
So far, so good. There are many comic interludes, and despite Sadagopan Ramesh's lacklustre performance, R Sivam, Umar and Avathar Ganesh provide plenty of incentive for you to sit through the first half. Harini, the heroine, could do with acting lessons, though.
In the second half, the story suddenly sidetracks, roping in quarrying, destroying natural resources, and unscrupulous businessmen in an attempt to make this a serious story -- so when you finally get to see the climactic cricket-match (liberally inspired from Lagaan, including the training song and campfire), you feel no empathy with the characters. You know how it's going to turn out, anyway.
Having said that, points definitely go to the dialogue-writer (Yuvraaj) and Raja Mohammad's editing. Aruldev's music doesn't linger much, while Gopi Amarnath's cinematography passes muster.
Potta Potti has healthy doses of humour -- if only the director had cut out the moral-of-the-story part, made the screenplay tauter, and rid it of extraneous tracks, it would have been infinitely better.
Rediff Rating: