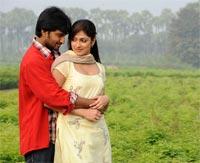 Watch Telugu film Pilla Zamindar if you are actor Nani's fan. Post YOUR reviews here!

Nani's versatility is reflected increasingly in the films where he has author-backed roles. After Bheemili Kabaddi Jattu and Ala Modalaindi comes the Telugu film latest, Pilla Zamindar, where he has not just a substantial role, but one that has varying shades of character thanks to the script by the director G Ashok.

Pilla Zamindar has a mostly rural setting and while it entertains, it also gives out little messages along the way.

The storyline is not new but it is treated a bit differently. PJ or Praveen Jayaramaraju (Nani) is a rich, spoilt brat who has all the vices. After he completes his first year of college, he learns from a lawyer that he is heir to his grandfather's (Nagineedu) inheritance worth several crores of rupees besides land, houses, a factory, etc. PJ is overjoyed at this but he soon learns there is a caveat.
He is not entitled to use the money until he fulfils the conditions laid down by his late grandfather. He has to complete the remaining two years of college in the village Sripuram, has to live in a hostel run by Rajanna (Rao Ramesh) on a meagre monthly income of Rs 2500, and cannot use credit cards etc. Later he comes to know that he has to also be elected as the college president!
When he comes to the village in fulfilment of these demands, he finds he has to make a lot of adjustments, and the question is, will PJ adhere to the demands of the will in order to claim his inheritance?
The first half of the film is fun as PJ tries to settle into the village college and hostel. As the film moves to the second half it gets a bit heavy on emotion and the script veers to the serious as well. Messages on life, friendship, happiness, money are dropped along the way.
G Ashok has come up with an entertaining film. Although the songs composed by Selva Ganesh were okay, they were too many of them.
Pilla Zamindar is Nani's show all the way. He lives up to the role and is able to portray the kaleidoscope of emotions demanded of him. 
Haripriya has a bit more scope to perform than Bindu Madhavi, who's there mainly for the glamour. Rao Ramesh and M S Narayana suit their parts and both are good actors who perform their roles with ease. Srinivas Avasarala stood out as Kanna Babu. The band of boys--Vennela Kishore, Tagabothu Ramesh and others--performed well.
Selva Ganesh's background score is worth a mention. Technically, the production quality is above average.
Pilla Zamindar is a good choice if you're out for some entertainment and to see Nani turn in a good performance.
Rediff Rating: