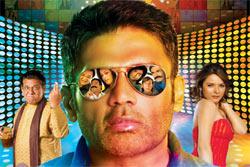 Ankur Pathak says bad direction, some real cheap dialogues and terrible acting makes Picture Abhi Baaki Hai Mere Dost a letdown.
Picture Abhi Baaki Hai
is an interesting premise gone awfully wrong in the direction department. Cheap production values and a clutter of actors who seem to have returned from a scary trip to Planet Oblivion (Suniel Shetty, Neena Gupta, Udita Goswami, Rajpal Yadav) contribute to making this a B-grade movie.
The film scrutinises the hypocritical and wannabe ways of Bollywood through another B-grade film (called
Cheekh
). However, the thematic connotations, the many digs at popular mainstream directors and their eccentric working methods bears some resemblance to reality, and the film does manage to touch the surface of a film industry that has little to do with morals and is absorbed in unapologetically minting money at the turnstiles.
Suniel Shetty plays Amar Joshi, a Benaras-based DVD retailer who, despite parental opposition, puts together enough money for a course in filmmaking in London. After educating himself at this premier institute, he returns to India with a sensational script-idea about a true incident of a journalist probing a medical scam who later gets gang-raped.
He lives with his best friend Suraj (Rajpal Yadav) in a tiny apartment that has an Ameesha Patel poster on the refrigerator while Hrithik Roshan adorns the wall.
Suraj is a struggling actor with dreams of becoming a top-notch hero some day. It's a sensitive character, deserving our sympathy because it's a very honest depiction of the countless wannabes crowding the streets of Lokhandwala in the filmy Mumbai suburb, hoping to dethrone Ranbir Kapoor some day.
Amar meets a number of filmmakers (the financial crunch and the datedness of the plot shows him visiting directors who represent the Bad Bollywood of the '90s). There are all sorts of stereotypes employed here that reveal that the makers have clearly not bothered to upgrade their information on the arrivals of the Fat Cats (read Corporatism).
From the exploitative who wants to sex up the protagonist, to the devotional who insist that a Mata come in, and the journalist averting gang-rape,
the script Joshi is peddling becomes a running joke as nobody wants to finance it.
The film sounds outdated when characters ask for Joshi's script to have "Johnny Lever-comedy," or "
Kaanta Laga
-sex scene" and "Sunny Deol action". It is funded by the underworld, another big talking point in '90s. Seriously, this is a Bollywood parody of the '90s – probably the ugliest transitional phase the industry ever witnessed.
A number of roadblocks interfere with Joshi fulfilling his ambitious vision of the film-- the heroine's mother wants a foreign locale, another financer hijacks the project, and so on.
Joshi dream is crippled and manipulated by the vested interests of each individual. But his struggle rings true and however shabby the film, it does vaguely depict the madness behind the method.
Thus, in many ways,
Picture Abhi Baki Hai
is a satire on the erratic functioning of Bollywood as an industry. The action hero wants to do romance but the romantic guy wants the girl in an action-heavy scene. What the girl wants is nobody's concern. It's a male-dominated industry with the women acting as mere subjects of a fetish or in exploitative sex scenes.
The performances range from the bearably decent to the plain awful to the awfully bad. Suniel Shetty enacts his role with sincerity and it can be said that he has still got it in him, while Rajpal Yadav, as the increasingly delusional extra who feels he has something 'extraordinary' in him, is just annoying.
Veteran actors Neena Gupta and Om Puri don't do much but loudly embarrass themselves, while Udita Goswami looks as if she is auditioning for her part rather than playing it.
This was an engaging script, a largely untried satirical approach to Bollywood, which could have been so much more if a competent director was at the helm.
As it is, it is a forgetful film laced with vulgar dialogues that pass for humour, worn out production values and acting that will make you cringe.
Rediff Rating: