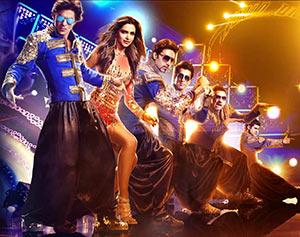 The Happy New Year soundtrack has quite a few winners, says Joginder Tuteja/ Rediff.com.
One expects a blockbuster soundtrack from Happy New Year. After all, it's one of the biggest movie releases this year.
Shah Rukh Khan reunites with his Main Hoon Na and Om Shanti Om director Farah Khan in this film.
The music has been composed by Vishal-Shekhar. Irshad Kamil is the lyricist.
Vishal Dadlani sings the flagship number India Waale, which tries to recreate the Chak De! India magic. The setting is not sports but dance here.
India Waale has an Indian melody with a dash of patriotism and is energetically rendered by Shankar Mahadevan, K K and Neeti Mohan. The tempo never slows down, especially in a 30 second longer 'electronic version' that is designed for the dance floor.
The sweet-n-simple Manwa Laage comes next. This beautiful love song starts with Shreya Ghoshal's vocals, joined by Arijit Singh in perfect harmony.
Vishal-Shekhar have created the kind of composition one expects from them. Irshad Kamil's lyrics are appealing.
Manwa Laage is a catchy number and will enjoy a good shelf life.
Variety rules the album, with every song sounding different.
Sukhwinder Singh sings Satakli, a typical 1980s number, whose simple tunes plays on in your mind. Not chartbuster material, this sounds too ordinary for a film as big as Happy New Year. But the composers probably had single screen audiences in mind.
If there was Sheila in Tees Maar Khan, Chikni Chameli in Agneepath and Kamli in Dhoom 3, then it is Lovely in Happy New Year.
Lovely is a guest composition by Dr Zeus with lyrics by Jiwan Mann and Kumaar. It is sung by Kanika Kapoor of Baby Doll fame (in Ragini MMS 2).
The number has a relentless pace and enjoys good support from Ravindra Upadhyay, Miraya Varma and Fateh. It is a winner all the way.
Another version of the song, Kamlee, is even better. Expect this longer version to play in discotheques and clubs for many more months to come.
Though medleys in a Hindi film soundtrack usually arrive at the end of the album, World Dance Medley is right in the middle. Neeti Mohan takes the mike to begin her own rendition of Manwa Laage. A minute later comes Satakli, followed by India Waale. Somewhere in the background one also hears Shah Rrukh Khan narrating a line or two on the state of affairs in the country.
If it was Besharmi Ki Night in Main Hoon Naa, it is Nonsense Ki Night up next. Farah, Vishal and Shekhar turn lyricists for the song. There isn't much to this number despite the presence of Mika Singh. The Hinglish lyrics remind one of Vishal-Shekhar's Dance Maare from Tashan.
A quintessential Farah Khan number is next in Danne Like A Chammiya. Sunidhi Chauhan is just the right voice for the song.
While Vishal goes solo as a lyricist for this dance number, he also goes ballistic along with Shekhar to make sure that the desi tune is catchy enough to keep up the momentum of the album.
Manj Musik brings on some good 'bhangra-pop' with Sharabi. Though it has a folk base, it is peppered with Western arrangements. It's catchy enough to warrant a visit to the dance floor. Nindy Kaur comes in midway and is a perfect ally to Manj Musik. The lyrics are by Kumaar, with Vishal-Shekhar chipping in.
The film's plot centres on a heist, so the album concludes with John Stewart Eduri's The Heist. The quick-fire, two-minute piece is just right and will encourage listeners to check out the film.
Rediff Rating: