Fun, colourful, comical are adjectives you rarely use for a Vishal Bhardwaj film, but that's exactly what Pataakha is, notes Urvi Parikh.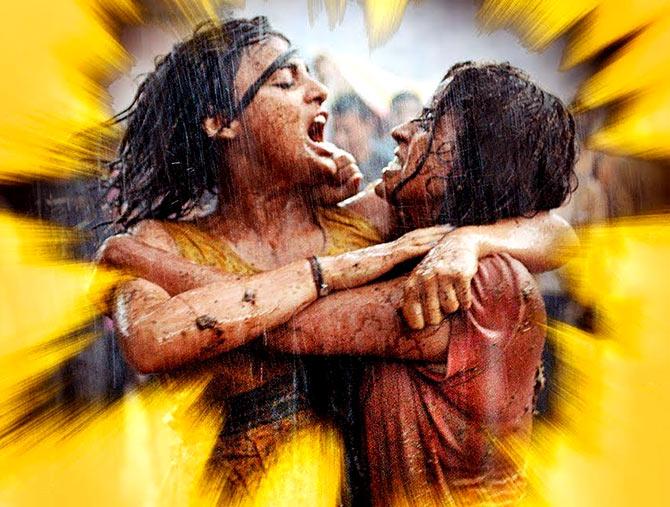 When you think of Vishal Bhardwaj, the first thing that comes to your mind is a dark film or a movie with complexities and layered performances.
A movie that compels you to analyse its motives.
Pataakha is the most fun film he's made.
It sucks you in and takes you to a different world.
Fun, colourful, comical are adjectives you rarely use for a Vishal film, but that's exactly what Pataakha is.
As the title indicates, the movie is indeed a firecracker, with some stellar performances and the right amounts of raw and rustic feel to it.
Badki (Radhika Madan) and Chutki (Sanya Malhotra) are warring siblings.
They fight at the drop of a hat and become a source of entertainment for their village.
Their father Shanti Bhushan (Vijay Raaz), despite his love for them, is fed up while their cousin Dipper (Sunil Grover) keeps provoking them, and ensures that they don't stop fighting.
The sisters' only wish is to stay away from each other and they feel the only solution is to get married.
Destiny plays spoilsport and the two end up marrying brothers (Namit Das and Abhishek Duhan).
How the sisters find a way out of this messy situation forms the crux of this story.
Vishal Bhardwaj never fails with his casting.
After wowing audiences with her subtle yet powerful performance in Dangal, Sanya Malhotra is exceptional.
She is fierce, expressive and spot-on as Chutki.
She defines the film's title.
Sanya is complimented well by Radhika Madan's nuanced and convincing performance as Badki.
Namit and Abhishek play the helpless yet loving husbands.
While you love the sisters, you also feel sorry for their situation.
Vijay Raaz, as the hapless dad, evokes sympathy too.
But overshadowing them all is Sunil Grover. He is such an exceptional actor!
Each time he appears on screen, he lights it up with his humour, performance and expressions.
Scenes without Sunil are quite flat.
While the rustic element enhances the film, after a point, you feel it getting stretched.
In the second half, Vishal tends to go overboard and you grow impatient.
How I wish Pataakha had been trimmed by about 25 minutes.
Still, Pataakha deserves a watch.
Rediff Rating: