...But ends up being oddly moving, says Sreehari Nair.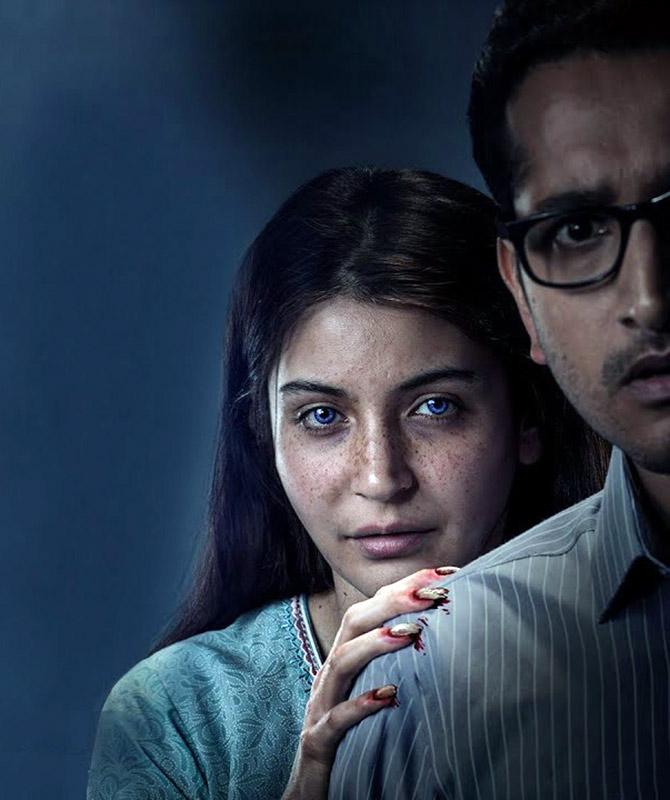 Prosit Roy's Pari is Ek Thi Daayan in reverse.
For a film with a cunningly baroque and riveting first half, Kannan Iyer's Ek Thi Daayan had one of the lamest conclusions ever thought up for a movie.
Pari, on the other hand, starts off like a nervous, freshly minted calf, and then puts the squeeze on the audience as the story speeds up.
It's when its narrative moves into a psychedelic underworld that Pari shocks you with the directions it takes.
Ek Thi Daayan, if you remember, had run out of imagination precisely when it left the real world and tried reaching for this underworld.
More significantly, if Ek Thi Daayan was about slaying the witch, Pari is about holding the witch closer, tighter -- it's about domesticating the witch, losing your heart to her, letting her take a bite of you, and finally giving her your seed.
Prosit Roy, who was an associate director on Ek Thi Daayan, has here made it his business to humanise the witch.
If Bernardo Bertolucci developed his lush, sensual dramas from his diary entries ('I dreamt of meeting a beautiful, nameless woman on the street and having sex with her'), Prosit seems to have wrenched out his story from a set of personal sketch books.
This is not a movie made by a romantic or a natural wit, but by someone who has visualised its netherworld and who believes un-cynically in its codes, myths, and echoes.
Despite its many failings -- primary among which is a mouldy first half -- Pari's finally an effective motion picture because it brings to life one of our central folklore figures; turning in the process, one of our primal childhood fears inside out.
Anushka Sharma's Rukhsana is a changeling with the scope of her myth enlarged.
She is unearthly but drawn out in human terms.
When this scavenger-lady (in one scene, she eats out of a dustbin), who it seems cannot take a step without tripping herself over, leaps from objects and down from buildings, Pari feels like a scandalous joy.
And when Rukhsana lands on her feet, strokes a dog affectionately, and then swiftly digs her teeth into the animal, it is both horrifying and comical.
The film has a Faulty Picture Tube-look, with even the green forest drenched in nightly colours. This is a world from which all beauty and verdure has been systematically removed.
'If these characters were to ever escape the horrors of the plot, what would they escape into?' I wondered.
Possibly, yet another dimension of horror.
The plot, in threadbare terms, is about Rukhsana and Arnab (Parambrata Chatterjee, playing the only low-on-confidence Bengali on earth), united by a twist of fate, and whose union is constantly threatened by Dr Qasim Ali (a witch-hunter with incense sticks for tranquilisers and a PhD to flash).
Prosit Roy sets the emotional tone by building a stark contrast between Arnab and Rukhsana while showing us how alike they still are.
The scrawny Rukhsana, with her freckled skin, unkempt hair, and an urchin's vocabulary, and the boy-scout Arnab with his sweatless face, mass of curly hair and a front-desk executive's voice, are mismatched in manner and yet bound by their introversions.
As a child, when guests would come visiting, Arnab would hide underneath the cot, a habit that defines Rukhsana even in her adulthood.
She is without an address; he is friendless.
And toward the end, when Prosit Sen gives us two frames of them lying helplessly, she gagged and he bearded, they are like two fetuses joined end-to-end.
Anushka Sharma, while one of our most ambitious actresses, is memorable when she brings a character to her. Her best performances are ones where she remakes a character in her own image.
As Rukhsana, one gets the feeling that she is reaching out too hard. While she brings a wonderful gothic kineticness to the action scenes, moving through them like a groggy avenger, the soft bits, from the robotic style of talking to the clutching onto her kurta, all come off as affectations.
When she finishes off a plate of heavy carbohydrates, we are supposed to exclaim, 'What iron in the lady!'
Parambrata Chatterjee gets to perfect the go-to man character for lonely women making their first trip to Kolkata.
His Arnab is sufficiently relaxed, and my guess is, he may very well be a stand-in for Prosit Roy himself.
Rajat Kapoor gives a wily and polished performance as Professor Qasim Ali. Direction seems to have released a statuesque refinement in Kapoor, the actor -- in a scene where we are shown his reflection in a lake Qasim Ali almost feels like a portrait.
Kapoor can now convey more in a frame by doing not half as much as the other actors; in the way he sighs as he sits down, you get both the ageing of Qasim Ali and the wisdom that has come with that ageing.
Prosit Roy may have conceived Pari as a scary movie but he invests in his characters, visuals, and even schlock artifacts, so much of his personal vision and his boyish energy, that he turns this into an oddly moving film.
The mythology of Ifrit, which is the source of Rukhsana's woes and is Qasim Ali's major area of interest, is both jocose and densely constructed.
In a wonderful example of his free-flowing comic-book imagination, Roy gives us a sequence where it feels like Rukhsana is getting her period, but as it turns out, she merely wants to discharge her pent-up, witchy, poison.
The studio-produced sounds hardly quicken your pulse but when they culminate in a real-life sound, like, say, that of a cartoon show on television or a song from a headphone, you're thrown into a state of brutal surprise.
In the first half, as Prosit Roy sets the narrative up, you can call out the instances when he is leading you toward ready-made responses. However, as he goes on, Roy employs diversions intelligently but without them seeming like manipulations on your intelligence.
He clearly has mapped out this mythology across numerous sketch-books and has here distilled them into a taut screenplay, so even when his mythology feels laughable, you kind of go with it, because he is so dead serious about it.
The best horror movies are ones that make you laugh as you scream -- laughing presumably at your own screaming -- but Pari doesn't operate on that level.
When Rukhsana tries to take a final bite of Arnab but decides against it, or when she talks about how dogs willingly become her food so that she can get through the month, it doesn't give you the chills but a tinge of sadness.
You respond intuitively to Pari's pleasures, but these pleasures are located somewhat in the sentimental than in the kinks.
Through Anushka Sharma's bloodied face, jabbing, and her dangling upside down, and Mansi Multani's turn as the witch-in-command, who holds all the strings, and who speaks for Ifrit -- 'Spread his bloodline,' says the senior witch -- I waited for the jolt to hit me, but it didn't.
And then came a passing scene of Rukhsana watching television, and in it was Akshay Kumar professing love to his girl over a fake background of desert and gypsy clothes.
I tell you, I was scared out of my wits.
Rediff Rating: