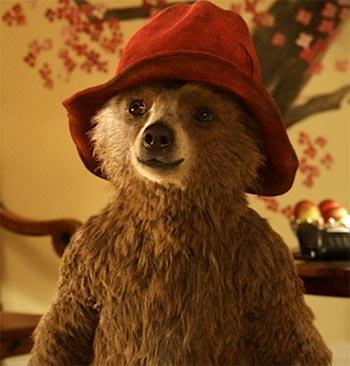 Paddington imparts practical life lessons in a way that is neither patronising nor insulting to the intelligence of kids, says Paloma Sharma.
Paddington is the cutest little thing I've ever seen.
He is a little over three feet in height, has lustrous, light brown hair, big brown eyes, and a little button for a nose that twitches ever so adorably. Oh, and did I mention that he's a bear?

Based on Michael Bond's Paddington Bear, a character that has been around in children's books since 1958, Paddington (2014) is one of those rare CGI (computer generated imagery) films that employ self-restraint while using the technology.

The film revolves around a young bear with a "worrying marmalade habit".

He lives with his Uncle Pastuzo (Michael Gambon) and Aunt Lucy (Imelda Staunton) in the jungles of Darkest, Peru.

The young bear, whose name is pronounced as a distinct roar in Bear, the language, leads a quiet, protected life until an earthquake strikes and the family loses Uncle Pastuzo.

Aunt Lucy, basing her decision on the promise of an explorer who had visited them years ago, sends Paddington to London in order to seek a new beginning.

Before parting ways, she hangs a tag around his neck that says "Please look after this bear". She hopes that someone will take care of her nephew the way people took care of orphaned children during the Second World War.

However, when he stows away on a cargo ship and finally arrives in London, he finds himself alone on a train station with no one willing to give him a home.

Then, the Browns walk by, and everything changes.

Mrs Brown (Sally Hawkins) takes pity on the bear. They name him Paddington after the station they find him on, and bring him home just for the night.
Mr Brown (Hugh Bonneville), the positively paranoid patriarch, is dead against the arrangement. But Mrs Brown and their son, Jonathan (Samuel Joslin), promise to take Paddington to a proper institution the very next morning.

However, Paddington isn't going to be safe in an institution for young people without guardians as the Browns believe he will be.

A rare Peruvian bear like him has not escaped the eye of Millicent Clyde (Nicole Kidman), a taxidermist and High Priestess of Torture. Clyde will not rest until Paddington is stuffed and standing in a glass case in her collection.

The true hero of Paddington is its director Paul King.

King, who has co-written the film with Hamish McColl (Johnny English: Reborn; Mr Bean's Holiday), leaves you in awe of the power of his imagination.

Instead of leaving a mess on the cutting room floor, King deftly blends one scene into another, using unlikely props as he utilises animation, taking deserved advantage of Paddington being a live-action film.

Paddington is armed with a typically British sense of humour and good manners.

It pays due attention to every single one of its characters. Each one is eccentric in his or her way, and back stories are touched upon briefly but efficiently.

Hugh Bonneville and Sally Hawkins have great chemistry despite playing characters that are polar opposites.

Joslin and Harris, the younger members of the cast, are (thankfully) left alone to act their age -- a job they carry out wonderfully, while Nicole Kidman, who reminds one a bit of Chantel DuBois from Madagascar 3, makes evil so good as she pulls all kinds of hilarious stunts in order to stuff that bear.

Calypso, an unlikely yet entirely appropriate form of music for this English comedy, finds its way onto the soundtrack. It brings with it an entertaining group of musicians who are recurring characters in the film.
Paddington is a heart-warming family story but it ultimately succumbs to the Disney template with a happy ending that's unbearably sweet.

Paddington also imparts practical life lessons in a way that is neither patronising nor insulting to the intelligence of kids.

Rediff Rating: