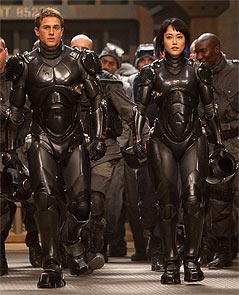 Pacific Rim is possibly the best and the grandest belated gift a man can offer his childhood, writes Sukanya Verma.

How I wish 'whoawhoawhoawhoa' was a real word. A stream of exclamations would fittingly describe the sense of awe, exhilaration and bewilderment I experienced after watching Guillermo del Toro's Pacific Rim.

As kids, most of us create a dynamic, inaccessible universe in our head wherein a lot of that active imagination is manifested through toys/action figures with young minds manufacturing novel concepts of urgency, crisis, vehemence and heroics.

Most of us outgrow the fantastical but some like del Toro hold on to those memories and wait for an opportunity to bring back that kid in forefront again.

'The point of being over 40 is to fulfil the desires you've been harbouring since you were 7,' he told Time once.

With Pacific Rim, del Toro fulfils his childhood dream and drags you along to join the fun with a marvellously engineered vision that's so massive and maximised, no 3D glasses or IMAX screen feels spacious enough.

The objective behind this ambitious project, designed primarily with children in mind (devoid of strong language, intimacy), is quite simply to reiterate the triumph of good (man) over evil (everything else).

Only this time it's not a brooding superhero, a teenage boy wizard, a foodie hobbit or any comic/cartoon/classic adaptation but 250-feet tall robots called Jaegars (German for hunter), piloted by two humans connected to each other's brain through a technology known as 'The Drift' standing up to ferocious creatures Kaiju (Japanese for giant beast) emerging from the ocean in a bid to wipe off the human race and form their own colonies.

A crisp prologue reveals how a previous attempt to achieve the same was foiled when the Pan Pacific Defence Corps devised their own ammunition, the Jaegars, to fight off the Kaijus.

The seemingly peaceful spell ends after the Mecha-inspired humanoid robots (bearing strong resemblance to the legendary Gundam) are trounced by the overpowering Kaijus (creepier and more realistic cousins of Godzilla, Mothra and Rodan) all over the world.

Hopeless circumstances are directly proportional to unexpected bravado on celluloid.

And so a team of pilots, scientists and commanding officers is assembled with the single-minded aim to 'cancel the apocalypse,' a punch line that has inarguably reserved its place in history and best-ever compilations.

As it usually happens in crammed creature features, actors are relegated to secondary status and spectacle is key.

While Charlie Day and Burn Gorman provide the mandatory nerd quotient with refreshing whimsy, Idris Elba packs in sturdy intensity as the blunt leader of the pack and when he reprimands his subordinate Charlie Hunnam, nobody argues.

There's also del Toro staple Ron Perlman in a deliciously wicked cameo.

Hunnam doesn't have such aura or star appeal but he's pretty and earnest. There's a whiff of chemistry between him and Rinko Kikuchi, which hits its peak during a combat scene.

While it's great to see a girl in a role that's as meaty and arduous as the men, Kikuchi's limited emotive range fails to convey the trauma of her past, expressed far more effectively by a kid who plays her younger version in one of Pacific Rim's most stunning, almost poetic, sequences staged in Tokyo.

In essence and visuals, Pacific Rim pays a loving tribute to the Japanese monster films genre dipped in del Toro's quirky brand of aggression (wait out for the swell post-credits scene).

I love how all the action takes place in the night and that every single Kaiju entry is an occasion for breathtaking drama.

That unforgettable visual against the moon involving two swooping creatures -- one metallic, another monstrous -- and a massive sword is stuff jaws were made to fall for.

Equally exciting are those thud-in-the-heart moments of sudden scaly being appearances, surprising twists and unabashed horror (took me back to James Cameron's Aliens) from a kind that's known to dumbly amble about the streets making growling threats.

The scale of the onscreen battle is fully understood when an otherwise intimidating chopper, at this point no bigger than a dragonfly, hovers in to highlight the comparison.

Alternating between bluish-grey palettes to saturated colours, captured in the grim and glamour of Guillermo Navarro's cinematography, boosted by Ramin Djawadi's electrifying score, Pacific Rim's technical accomplishments and inspired art/design could have made greater strides with a script as original and soaring as its wizardry.
At the same time, del Toro's ability to create a tangible energy and a sense of terror that's almost theatrical is what makes his contribution in the blockbuster ilk a masterclass.

With Pacific Rim he's gone bigger beyond measure, beyond the stretch of naked eyes, beyond the dimensions of supreme imagination.

This is possibly the best and the grandest belated gift a man can offer his childhood. Do yourself a favour.

Rediff Rating: