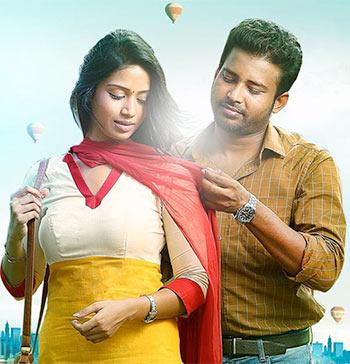 The film is engagingly narrated in flashbacks that move seamlessly from one character to another, says S Saraswathi.
Movies with women-centric themes seem to have caught the fancy of Tamil filmmakers. Last week it was Karthik Subbaraj's Iraivi. This week, we see the release of debutant director Nelson's Oru Naal Koothu starring Dinesh, Mia George, Nivetha Pethuraj and Riythvika.
While Iraivi, with its twisted and violent plot did not appeal to all, director Nelson has chosen sentiment and humour to narrate his tale. Oru Naal Koothu, which looks at the life of three women, focuses on the significance of marriage in society and the immense pressure it exerts on both parents and children.
Marriage in the early 20s is the unwritten rule and life can turn into a nightmare for those who reach their 30s without finding a life partner. Society has no sympathy for those who do not abide by this so-called template for a happy and successful life.
Mia George, with her girl-next-door looks, is perfectly cast as the hardcore believer of a traditional arranged marriage. She obediently dolls herself up in Kanchipuram silks and gold jhumkas each time her father arranges a prospective groom to come see her.
Not a single proposal culminates in marriage and the years pass by with regular visits to the temple and sly taunts from well-wishers.
Sushila (Riythvika), a popular radio jockey from a middle-class family, is sailing in the same boat. She has no father and her unmarried older brother, played by Karunakaran, is desperately trying to find her a decent match.
Finally, we have the modern and rich Kavya (Nivetha), who is in love with her colleague Raj (Dinesh). Raj comes from a very poor background and has a big family and endless commitments.
Kavya's father wants a better match for her and, with Raj struggling to settle down in life before marriage, things are no better for Kavya than they are for the other two girls.
The film is engagingly narrated in flashbacks that move seamlessly from one character to another. Interestingly, all the characters remain unconnected till the climax, when fate throws them together.
Dinesh has a significant role, but the spotlight is on the female characters and all three have given a wonderful performance. Slim and pretty newcomer Nivetha effortlessly glides through her role. Equally impressive is the calm and composed Riythvika of Madras fame.
The music by Justin Prabhakaran is both soothing and disturbing, elevating the atmosphere of the film. The Adiye azhage number is the pick of the lot.
Bala Saravanan, who plays Dinesh's friend, keeps things from getting too dreary. The only negative would be the climax, which seems like an attempt to deliberately steer clear away from the anticipated and create some drama.
Nevertheless, there are no undue hysterics and the interesting screenplay with the simple yet compelling dialogues, beautiful music and solid performances make director Nelson's Oru Naal Koothu worth a watch.
Rediff Rating: