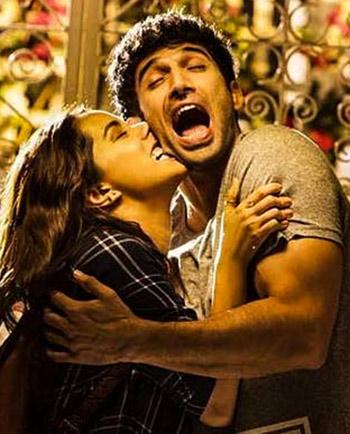 Shraddha Kapoor and Aditya Roy Kapoor don't burn the screen with passion but there's a pleasant sense to their togetherness, feels Sukanya Verma.
Romance prompts labels and rules.
There's always a 'type' to describe both the individuals in a couple, the arrangement they agree upon and the guidelines they hope to set and follow for the sake of perfection or peace.
But the heart is no slave to system and gives precedence to impulse above anything else.
Filmmaker Mani Ratnam is the master of whimsy and impetuous love, where the reeling state of two besotted protagonists is the only high and heart his storytelling needs. One of its most dazzling examples in recent time is O Kadhal Kanmani, which is about a young pair, at the threshold of pursuing their careers in two different continents, opting to live-in.
Perhaps it's only a case of commitment blues or not wanting to get entangled in the snags of serious relationships. What comes across though, and also the reason why it works so well, is it feels like a story of connection, not arrangement, where the process of falling in love surpasses the condition it's founded on.
Ratnam's script is fail-safe only elevated to giddy levels of spunk and sentimentality by his sublime collaborator A R Rahman and a flawless cast led by two extremely riveting actors --Dulquer Salmaan and Nithya Menen.
With Ratnam and Rahman holding fort, there's little Shaad Ali can get wrong in his faithful Hindi remake titled Ok Jaanu. Jaanu doesn't sound nearly as sweet as Kanmani but when belted out of Rahman -- jaanu, joker -- it ceases to matter.
Except Ok Jaanu cannot shrug off the identity of a remake.
It's like two people who've watched the original consciously recreating it for an audience unfamiliar to the original.
Shaad Ali, who previously remade Ratnam's Alai Payuthey as Saathiya, sticks to the script but leaves out some finer details, which are crucial to the essence of Ratnam's screenplay. Like two Tamilians bonding in a home away from home scenario or their somewhat touristy vision of Mumbai, a local would rarely share.
In Ok Jaanu too, both Adi and Tara aren't originally from Mumbai yet come across as unrealistically indigenous.
Rather every single frame of this glossed-up version, captured through Ravi K Chandran's lens and painted in hues of orange, maroon and sunshine, is a nod to the virtues of refined production design. Rains and landmarks solely exist to provide all the drama and opulence the script rigidly refrains from.
Every hurdle in Adi and Tara's path is tackled with calm and decency. They are playful and gracious at all times, people in support of them are fuss-free, even people opposing the live-in nature of the relationship are generally harmless.
Ok Jaanu may not always bubble up the urgency and anxiety of a knotty romance but its restrained tone engages, as does the freewheeling intimacy between Aditya and Shraddha.
They aren't the best picks to play the tenacious Adi or passionate Tara and there are times when Aditya and Shraddha struggle to inhabit the fanciful surface and suppressed emotionality of these two. Thankfully, they don't try too hard to flex beyond their limitations and stick to a successful vision. The upshot is acceptable, okay -- nothing more, nothing less.
They don't burn the screen with passion, even though there is a lousy attempt at foreplay in the form of the wishy-washy Humma Humma remix, but there's a pleasant sense to their togetherness. Or even the camaraderie around an elderly husband and wife duo (Naseeruddin Shah, Leela Samson) whose large and lavish roof they live under, something of a poster couple for inspiration.
Samson, reprising her role from the original, steals the show as a witty and tender picture of Alzheimer's even as Naseer gracefully steps back to dazzle as second fiddle.
On the other hand, the otherwise lovely Kitu Gidwani, wearing dark glasses and a dangerous scowl, seems more mafia than mom.
Adman Prahlad Kakkad pops up to grin needlessly and spout 'Balle Balle' at every chance he gets as the boss of a game developing team Adi works for. Other than suggest an unconventional profession for desi viewers, the gaming clips vaguely but never effectively mirror the conundrums plaguing its creator and is, ultimately, an ineffective ploy in the narrative.
Ok Jaanu raises but doesn't resolve questions about juggling professional and personal life, the dilemmas it poses for a woman. But it does address the changing face of modern-day relationships and the alternate arrangements it's looking at in a wishful way.
In Ok Jaanu, characters live in a bubble that doesn't burst till the end. Who wouldn't be OK with that?
Rediff Rating: