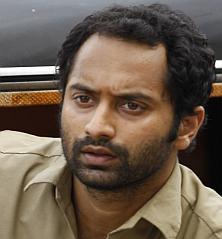 Paresh C Palicha says that Friday 11.11.11 Allapuzha directed by newcomer Lijin Jose with an ensemble cast is passable

People are talking about the new wave that is happening in Malayalam cinema, with youngsters (both in front and behind the camera) taking an initiative to experiment with themes and techniques. But, the most common theme of this new wave is a multiple narrative, where the story of a few characters not connected to each other crosses each other's path, is told. It has become the most tested theme after the success of Traffic.
The latest person to join the multiple narrative bandwagon is debutante director Lijin Jose with his film
Friday 11.11.11 Allapuzha,
where he tells the story of a few characters on that peculiar day and how their destinies are connected. First we meet Balu (Fahadh Faasil), who runs an auto-rickshaw by taking it on daily rent. We see the poor condition he lives in as he does not have the money to repair the roof of his house.
Next is Muneer (Manu), the son of the auto-rickshaw owner that Balu runs. He is a typical young college student who refuses to do anything that his mother wishes him to do.
Then we see Purushothaman (Nedumudi Venu), who has come to town shopping for his granddaughter's wedding with the ladies of the house.
There are
few more characters in this story who move around in the laid back town of Allapuzha on that fateful day. Balu, the auto driver becomes an important link in a few tracks of the story as he plies them criss-crossing the town. The other important factor in the proceedings are the cops, surprisingly shown in a positive light, whether it is in helping Purushotham search for the gold that he had forgotten in Balu's auto or in dealing with Muneer and his lover Jincy (Ann Augustine) after they have been hauled up from the beach.
The screenplay by Najeem Koya has similarity with other films in this genre in the recent past such as Ee Adutha Kalathu and Traffic, still it is well knitted to make the viewer care for the people on the screen.
Technically, the camera work by Jomon Thomas succeeds in bringing out the small town atmospherics to the fore.
The laurels for the acting should be justifiably shared equally yet Fahadh Faasil, as the uncouth auto driver, Nedumudi Venu as the old man who has started doubting his own faculties and Vijayraghavan as the cop intending to do good, linger in our memories longer than the others.
In the end, we can say that Friday
11.11.11 Allapuzha
directed by newcomer Lijin Jose with an ensemble cast is passable as there seems to be an overdose of stories of similar kind.
Rediff Rating: