There are no heroes or villains in No Fathers in Kashmir, only helpless characters who perhaps don't have a choice other than learning to live with what they're subjected to, notes Utkarsh Mishra.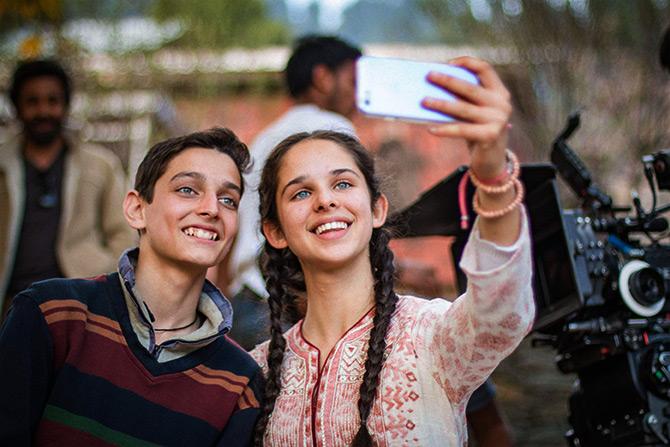 There's a set pattern of stories the rest of India hears about Kashmir.
A cordon-and-search resulting in an encounter, which, in turn, results in the killing of terrorists and security forces; an angry mob pelting stones at security personnel; terrorists lobbing grenades at check posts or police stations...
All these have given rise to several stereotypes about the valley. But not all of them are true.
Oscar-nominated Director Ashvin Kumar's No Fathers in Kashmir begins with a swipe at one such cliché.
Noor, a British teenager of Kashmiri origin, tells her friend in London that she is going to the land of her birth.
'See if you can get a photo with a terrorist, that would be cool. They're everywhere in Kashmir -- Al Qaeda, Taliban, ISIS,' her friend responds.
But there is a can of surprises that awaits the girl, beautifully played by Zara Webb, in Kashmir.
Noor's father, a Kashmiri man educated in Britain, went missing years ago.
Noor's mother is trying to find a future with an officer of the Indian Foreign Service, and her travel back home is an attempt to meet Noor's grandparents and cut the last strings before she remarries.
Noor is busy taking photographs of everything new she sees, with little idea about the mess this habit will get her into.
But before that she meets a playful local boy, Majid, a character brought to life by Shivam Raina.
Majid fulfills her desire to click a photograph with a terrorist by posing as one, but he also teaches her the difference between a militant and a terrorist.
Noor learns that Majid's father is also missing like hers and that they did not leave them, but were 'taken away' by the army and never returned.
Majid idolises and aspires to be like Arshid -- played by Director Ashvin Kumar himself -- a shady, enigmatic character who is a sort of local leader, an extremist separatist, a man who hides terrorists but also has an equation with the army.
It turns out that Arshid, Noor's father and Majid's father were best friends. Apparently, Arshid gave them away to the army to escape the unbearable torture that rendered him impotent. He knows that they are no more.
Noor considers it a betrayal and despises Arshid. He also has a secret which Noor learns.
Her grandparents -- played by Kulbhushan Kharbanda and Soni Razdan -- know all about Arshid, 'understand the situation', although her grandfather often chides Arshid for his fanaticism and separatism.
Noor provokes Majid to find their fathers' graves, which is deep into the forest near the Pakistan border, according to Arshid.
In her pursuit, she uncovers another secret and lands herself and Majid into deep trouble when they are spotted by the army.
The story poignantly sums up the day-to-day struggles of life in the Kashmir valley, especially of those whose sons, husbands and fathers have disappeared.
The movie is 'dedicated' to thousands of such people.
There are no heroes or villains in the movie, only helpless characters who perhaps don't have a choice other than learning to live with what they are subjected to.
It also shows the many shades of the Kashmir conflict. Not all of them are gun-wielding terrorists and they have different ideas about 'azaadi'.
And often, those ideas clash.
It goes beyond the self-proclaimed freedom fighters, beyond the stone-pelters and beyond the encounters to show the viewer a Kashmir we seldom think about.
The complex nature of the conflict is beautifully summed-up in this dialogue by a young army major: 'Bring me a clear war. Bring me an enemy I can see. Here every villager is an enemy and a countryman. Who do I protect, who do I fight?'
No Fathers in Kashmir is beautifully shot, not being the least economical with showing the nature's paradise that is Kashmir. So full marks for cinematography.
The screenplay is binding and keeps you curious about the next scene.
The movie gives no opinions.
It doesn't glorify or belittles any side.
It is left to the audience to draw their own inferences.
Hence, it should not be watched with a prejudiced mind.
This prescription is not only for post-2014 neo-nationalists who think that the ultimate solution is scrapping Article 370, but also for the 'azaadi' brigade that thinks the solution is the removal of the army from the calley.
Though the movie has fought its way with the censors, there are a lot of sequences which you do not expect to see in today's times.
In fact, it can be watched again and again to understand each and every aspect of it.
Rediff Rating: