NGK -- Nandha Gopalan Kumaran is only meant for Suriya fans, feels A Ganesh Nadar/Rediff.com.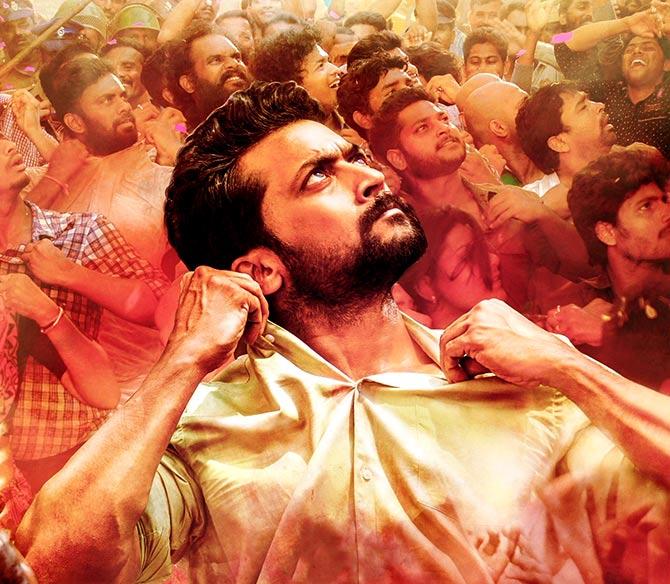 Do you know why Mahatma Gandhi used non-violence as a weapon? Suriya's character in NGK -- Nandha Gopalan Kumaran believes it is because he knew Indians are lazy, used to being trampled upon, have a slavish mentality and will not rise up and do anything unless it affects them directly.
And this is the message he delivers at the end of the film.
His character feels that people vote to just get it over with every five years, even though they know that politicians do everything to preserve their power and make money.
He feels people either don't care or are too scared to take on the powerful.
A unique interpretation, indeed, of the Mahatma's philosophy.
Suriya's highly educated hero takes up organic farming. This angers those who sell fertilisers, pesticides and other allied products.
They burn his crop and the homes of his supporters.
He learns the hard way that, without political support, there is nothing you can do in this democracy.
If you cannot win them, join them.
The film also stars Ravi, who is called Nizhalgal Ravi because he acted in a movie with that name. Nizhal means 'shadow' and here, as the father of the hero, he remains silent most of the time.
And the only time he speaks, we learn that he is a Mahavir Chakra recipient with friends in high places.
Director Selvaraghavan, it seems, suddenly decided to give Suriya and Rakul Preet a holiday abroad. So we get a romantic song, which is totally unconnected to the story.
As far as Yuvan Shankar Raja's music is concerned, the less said the better. The songs are forgettable, as is the background score.
The dance choreography is terrible. Suriya simply moves his collar and looks like a bad imitation of Salman Khan, fiddling with his belt in a hit song.
In Tamil Nadu, showing politicians as corrupt isn't enough; people here have already accepted that. In the movie, they are also shown as drunk womanisers, who use muscle power for everything.
When the politicians send goons to beat up the hero, I noticed two girls among them, welding knives. If this is not gender equality, what is!
There's a build-up of a strong woman, who is the chief minister's right hand.
I was expecting our venerable Sasikala but it turns out to be a female version of Prashant Kishor, the political strategist who helped some very important people win elections at the national level.
Selvaraghavan started directing movies at a very young age. It seems actors are in such awe of him that they do exactly what he says. So none of the characters look natural.
The two heroines -- Sai Pallavi and Rakul Preet Singh -- 'look' like they are acting throughout the movie.
Rakul Preet plays the female Prashant Kishor; her bio-data is exactly what we know about Prashant.
Sai Pallavi plays Suriya's wife and tries to look envious of Rakul, but it just doesn't gel. And when you see Sai Pallavi in Rakul's arms, it's hilarious!
Suriya tries his best to make the best of a bad situation.
He is average as the loving husband, the political strategist and action hero, terrible as the farmer and leader and brilliant as the MLA's underling.
He walks with his chest thrust out throughout the movie. It looks odd, as if he is holding his stomach in all the time.
Ilavarasu, as MLA Pandian, is very good.
NGK -- Nandha Gopalan Kumaran is a waste of time and money, unless you are a Suriya fan like me. Then, you can bear it.
Rediff Rating: