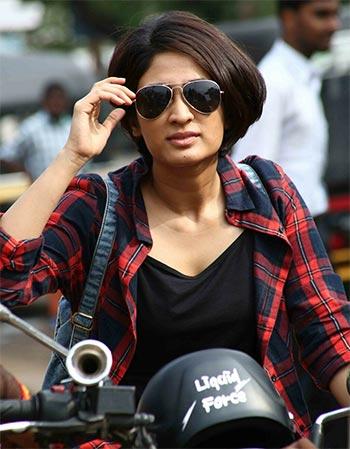 Nee-Na is another brilliant effort by director Lal Jose, says Paresh C Palicha.
In Nee-Na, director Lal Jose tries to analyse the impact of drinking on an individual and the people around that individual, and he does it well.
Neena (Deepti Sati) and Nalini (Ann Augustine) are poles apart. Neena detests rules and traditions, while Nalini considers them very important.
The one thing they have in common is that they both love Nalini's husband Vinay Panikkar (Vijay Babu).
Neena is an alcoholic. This fact overshadows her brilliance as creative director of an advertising agency.
Vinay decides to do something about it when he becomes her boss. But this decision turns his life upside down.
Neena is attracted to him and shows it. Thankfully, his wife Nalini is not insecure and does not keep him on a leash.
She extends an olive branch of friendship to Neena, but when her offer is rejected she just warns Neena.
We feel sometimes that Vinay is playing along with Neena's fantasy. He seems to be excusing her when he says, "Well, some people are just weird." His accommodative nature results in quite some turmoil in his own life.
When things threaten to get out of hand, though, he lets Neena know that his priority is his wife and child and he cannot go beyond friendship.
The rejection has a devastating effect on Neena. She attempts suicide. The hospital contacts Vinay. His number was found under the heading 'My Man' in Neena's phone.
It is assumed he is her husband and he does not clarify the situation beyond a point even after reaching the hospital.
The doctor suggests that Neena should be admitted to a rehab centre to treat her addiction. She has to be accompanied by a spouse or parent through the 22-day programme. Neena's father has jaundice so Vinay calls Nalini. She just tells him to think rationally and do what he feels right.
The film shows the de-addiction process in some detail. Vinay himself is de-addicted of Neena's obsessive love as she comes out of her drunken stupor.
In fact, Vinay himself goes through withdrawal symptoms along with Neena.
Rediff Rating: