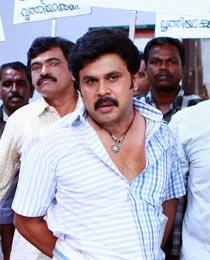 Malayalam film Nadodi Mannan doesn't work, according to Paresh C Palicha.

The common man becoming a hero and saving the masses is a plot line that has been done to death.

And Nadodi Mannan, the latest film based on the theme, starring Dileep, directed by Viji Tampy, does nothing path-breaking.

The film swings like a pendulum from being serious to being childishly comic. This venture is something of a cross between CID Moosa and the Suresh Gopi brand of political thrillers of the nineties.

The story is based in a city that is in the stranglehold of a land shark named Pushpan (Sayaji Shinde), who tramples the poor to build malls and multi-specialty hospitals. Obviously, he has no morals and kills people at will.

The erstwhile king of the place, played by Nedumudi Venu, is pained by the lawlessness and cries out for mercy to the Almighty Padmanabhan. The omnipotent Padmanabhan sends his namesake as his representative in the form of Dileep.

The human Padmanabhan is a lowly contractor supplying people for political rallies, religious processions and filling up cinema halls when a superstar film is released.

He has come to Thiruvananthapuram for a political rally, which is a show of strength for the city's mayor (Vijayaraghavan) who is hand-in-glove
with Pushpan in his illegal activities.
Padmanabhan is injured in an orchestrated bomb blast during the rally and has to be admitted to the poorly managed medical college hospital.
This is where his political activism starts.
The humour in the situations is substandard, whether it is Padmanabhan's reaction to the pathetic condition of the hospital or his repartee with Meera who is a standby for a patient in this overcrowded hospital.
The meteoric rise of Padmanabhan which begins here culminates in his becoming the mayor of the city. Then he begins to cleanse the corrupt political system, where he has to be in the Suresh Gopi mode in the beginning and ends up being his own cartoonish self by the end of every situation.
He has three female leads as if his own buffoonery was not enough. Apart from Ananya, there is Mythili as a TV journalist and Archana Kavi as a doctor in the medical college.
Dileep cuts a sorry figure in this enterprise that leaves him as well as his audience confused. There are actors like Salim Kumar, Sooraj Venjaramood and Kulapully Leela to support him with their antics.
Nadodi Mannan
has been long in the making and has waited for a release for an even longer time. But after watching this film, one feels it ought to have remained in the cans for eternity.
Rediff Rating: