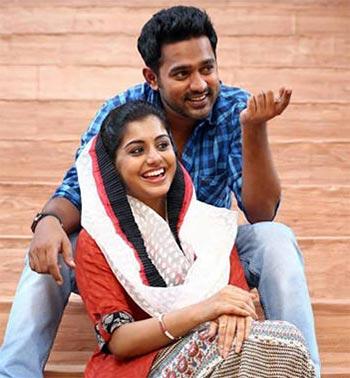 Mylanchi Monjulla Veedu is a typical old world story with inter-religious relationship, elopement, mayhem and murder. Paresh C Palicha
The Malayalam film industry is in a churn right now. While the young lot is trying out new themes and treatments inspired mainly by foreign films, the old guard is desperately trying to safeguard its territory by repeatedly making formulaic films that helped them to achieve their current status.
Jayaram's latest film Mylanchi Monjulla Veedu, directed by newcomer Benny Thomas, is a typical old world story with inter-religious relationship, elopement, mayhem and murder.
Even the comedy in this film takes us back to the Priyadarshan era of the 1980s with people assuming fake identities to enter a house and the free-for-all climax.
The events unfold in an orthodox Muslim household. The elder daughter Waheeda (Kaniha) runs away on her wedding night and her father Kasim (Siddique) kills his friend's son who helped her to run away.
Kasim gets seven years imprisonment for that murder. As soon he gets out of jail, he meets with a road accident that leaves him paralysed.
Waheeda has married an Ayurvedic doctor called Madhavankutty (Jayaram). Her cousin Anwar (Asif Ali) who was a party to the marriage, requests Madhavankutty to treat Kasim.
So, Madhavankutty becomes Dr Mammotty and enters the house of his in-laws. His treatment works and his father-in-law is restored to good health. In the meanwhile, Waheeda too manages to come back to her maternal home with their young son.
The script by Udaykrishna and Siby K Thomas offers nothing new. Even the so-called comedy is recycled and that stifles our enjoyment.
Jayaram latches on to every offer made to him as if it is the last straw to save his sinking acting career. Someone should tell him that what worked two decades ago, may not work today.
Those days he used to be a bachelor wooing the leading ladies; these days he elopes with the ladies to begin with and stories happen when he has young kids, and that is the difference.
The other difference is that the set of comedians supporting him has changed. It used to be Jagathy Sreekumar, Jagadeesh, and Innocent. Today they have been replaced with Kalabhavan Shajon, Baburaj and Sasi Kalinga among others.
These things denote the passage of time and the inevitable changes it brings.
It does not look good if we cannot accept it gracefully. It is the same for Jayaram in Mylanchi Monjulla Veedu.
Rediff Rating: