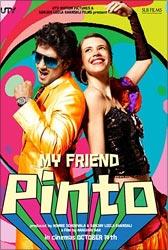 Preeti Arora write My Friend Pinto lacks focus or suspense. Post YOUR reviews here!

The country bumpkin irritates, exasperates and is difficult to deal with but he is blessed with a heart of gold. The miracle man will interact with you for a few minutes and your life will change forever. All the petty strife and rivalries which have so far populated your existence will suddenly cease to exist. The protagonist as a naïve charmer has become an often repeated theme largely due to the success of the Munnabhai series.

But a simple quirky idea generally isn't enough to generate a masterpiece. There have been plenty of other films which talked about life-altering events occurring during the span of a single day or night. Kuch Love Jaisa and Utt Patang are just two of the duds which come to mind.

My Friend Pinto is one such caper destined to sink at the box office this Friday.

Slapstick humour is like a many-times-patched, retreaded tyre often rolled out during the second half of the film hoping to accelerate the pace. But slapstick needs to be combined with an edgy script, crisp repartee and laugh-a-minute gags to keep the audience engaged and entertained.
My Friend Pinto which was probably planned as a social satire on urban life style and the inherent callousness of ruthless money minded city slickers turns into a meaningless one-night stand. Pun intended.

Now returning to Prateik Michael Pinto, who has just landed in Mumbai. He's here to meet and spend a week with his childhood friend Sam (Arjun Mathur). Sam is a yuppie who puts up with an overbearing boss at the office and a domineering wife at home. In this chaos lands up his childhood buddy Pinto who hopes to spend a week with him.

Pinto behaves more like he's travelled two hundred years through a time machine to reach Mumbai instead of the overnight journey he's undertaken to reach Mumbai Central station.  There is murder and mayhem all around him but Pinto remains oblivious of this fact. And the mindless so called humour begins.

A crowded station, two gun-toting goons, a conman on the run with a huge bag stuffed with moolah could have been the most appropriate fertile ground for the hilarity to begin. But first-time director Raagav Dar prefers to focus on Prateik the actor and lets the supporting cast slip into the background. And somebody tripping on a suitcase or accidentally wrenching off a handle are jokes associated more with the Rohit Shetty school of humour. 

Trite gags are interwoven in a script lacking in focus or suspense. The characters keep up popping up at random intervals and then disappear from screen. Makarand Deshpande plays a retired Mallu Don who wishes to keep his mistress happy. Makarand tries hard to make the audience laugh, but in today's times is the 'mallu' accent enough to have the audience rolling in their seats? Not really, despite a valiant effort Makarand doesn't even succeed in evoking a chuckle.

There's Divya Dutta as Reshma, a failed actress who tries hard to seduce a younger man. Considering the oomph factor which Divya is capable of oozing on screen, it is one more opportunity lost as the all-pervading air is one of buffoonery.

Kalki Koechlin's Hindi speaking abilities improve with every film. But she is a bit of a miscast as she looks older than Prateik. A small role carried off effortlessly.

My Friend Pinto is a great opportunity for Prateik to showcase his skills both as an actor and a dancer. The young awkward boy from Jaane Tu Ya Jaane Na has metamorphosed into a fine and confident actor. An endearing smile which can win many over many pretty young things. Yet he doesn't look like a shy young lad who has never visited a big city. A miscast for this role.

Paying homage to the all-time cult film Jaane Bhi Do Yaaron there is also a dead body being lugged around and which needs to be disposed off at the earliest. Doesn't form an integral part of the story, it appears as an add-on to a shoddy script.

As the grand finale Ragaav Dar summarily commentates on the lessons embedded in the script. Doesn't say much for his story-telling abilities.

See this only if you are a Prateik Babbar fan. Else avoid.

Rediff Rating: