My Birthday Song: An honest effort and a huge relief for movie enthusiasts, says Prasanna Zore.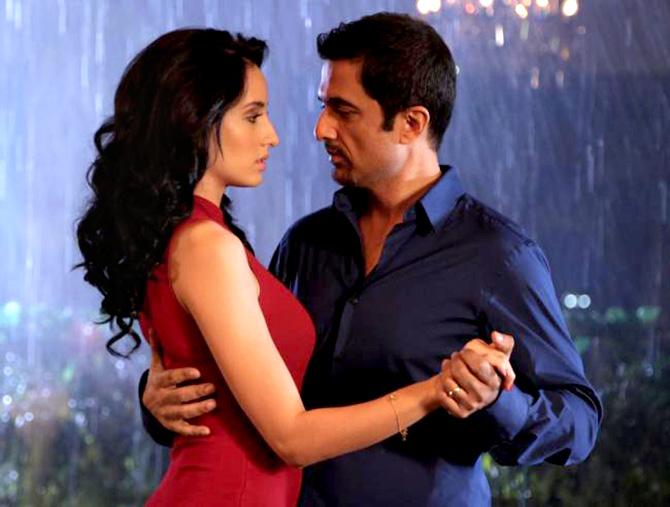 If you get spooky dreams or like psychological thrillers, then writer-director Samir Soni and producer-actor Sanjay Suri's My Birthday Song may chillingly connect with you.
Not many films these days -- labelled though they may be 'psychological thrillers' -- give you those edge-of-the-seat thrills.
So, the Soni-Suri combination's My Birthday Song comes across as an honest effort and a huge relief for movie enthusiasts.
Suri's successful ad agency owner Rajiv Kaul suffers the pangs of his troubled childhood, almost becomes a womaniser, and ends up a reckless murderer incestuously, inadvertently.
Soni's story tautly weaves a dream-within-dream sequence and then with a shocking flourish, brings you back to a reality so dark and bizarre that you will cringe just like Suri's Kaul when he comes face to face with the horrific reality that he himself had unleashed.
Suri and Soni must be complimented for daring to make a film that gets into your skin so much so that at one point, you dare yourself to step into Kaul's shoes and see your life torn asunder by the quirks of fate, and at times, your own karma.
My Birthday Song creates a flurry of confusion as it builds up till the intermission.
Once you begin to empathise with the film's protagonists, Suri's Kaul begins to spook you psychologically, and the cobwebs around his existence, his emotions and his actions become as clear as the sun coming out of an eclipse.
There are times, though, when Soni takes his indie independence too seriously and infuses a heavy dose of sex, which though central to the plot, is not too erotically handled. It makes you feel like you are watching a condom ad.
Suri wins your empathy, as he struggles, vulnerably, and flip flops between his past, his nightmares and the realities of his life.
Nora Fatehi as Sandy is used frugally as an actor and yet, she leaves her mark with her beauty and sexuality.
Zenia Starr, as Rajiv's wife Ritu, has little screen presence to get your attention.
Running for just 90 minutes, the film's real star is Soni's story and Suri's helpless vulnerability.
Rediff Rating: