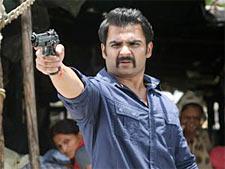 Ankur Pathak feels Sachiin Joshi starrer Mumbai Mirror is one mishap of a film.

We have seen this picture before. Many times before.
Hindi cinema has abundantly explored the complex nexus among cops, underworld and the political class. So there is nothing revelatory in Sachiin Joshi's new film
Mumbai Mirror
, directed by Ankush Bhatt of
Bhindi Bazaar Inc
fame. From the title of the film to the characterisation, dialogues, and theme,
Mumbai Mirror
owes a lot to plenty of other sources. The lead actor of the film is a schizophrenic version of Salman Khan's Chulbul Pandey and Lovely Singh (
Bodyguard
), with bits of Ajay Devgn's Singham thrown in for good measure. The villain, Prakash Raj, is a failed reincarnation from
Wanted
(which has also inspired much of this film's unskilled action), while the co-villain (Aditya Pancholi), who is part of a hastily added sub-plot that's more of a plot hole, is obviously inspired by
Agneepath
's unforgettable Rauf Lalla, eye make-up, crass dialogue delivery and all. Sachiin Joshi's Abhijeet Patil is an over-the-top version of a cocky cop, who borrows his mannerisms from Emraan Hashmi, his moustache from Aamir Khan (
Talaash
), and his foolishness probably from himself. Haunted by the demons of his past, where his mother was aggressively abused by his alcoholic father, Patil has grown up to be a deviously amoral cop without any regard for ethics. He's out to protect his city that is under serious threat from a self-celebrating don called Shetty who runs the dance bars which in turn are a front for his seedy cocaine business. Shetty also has a fancy chess-board where he spends most of the time surrounded by more real-life pawns than the ones in the game. Most of the film revolves around the two beating each other in chess, and unfortunately, it makes for lousy viewing.
After a point, you can't differentiate between the mass-murders committed by the cops and the goons, or where this story is actually headed. The characters, all one-dimensional rookies without any colour or personality, are borrowed straight from the bad, bad movies of a bygone era, making the title sound laughably ironical.
It's obvious that the movie is the product of an amateur trying hard to thrill, scandalise and shock, but all he makes you do is suffer, and suffer some more.
The girls in the film decide to do raunchy numbers whenever they feel they aren't getting enough screen-space. The women are, predictably, (mis) treated in a blatantly regressive fashion.
Mahesh Manjrekar plays a top-cop with an air of forced enthusiasm, while Prashant Narayan's character is there to offset the unprincipled hero. None of them make any impact, while a random Aditya Pancholi, who appears and disappears like a ghost in a Vikram Bhatt nightmare, induces the maximum number of laughs.
My favourite part was the unintentionally hilarious dialogue, and two characters whose only job is to be 'inside' the frame to fill up an awkward void, and all they do is smile for reasons best known to them!
What is also bothersome about the film is that in dealing with a complex issue within a commercial set-up, it ends up trivialising the magnitude of the problem. Cops with questionable reputations who have sordid links with gangsters, exist, and police selling narcotics back to the crime lords from whom it was seized, is a flourishing practice. But this film's attitude towards this storyline is ridiculously silly.
Which is not to suggest that the Salman Khan-Akshay Kumar-Ajay Devgn potboilers address the issue any better, but the star-wattage makes us forgive the larger-than-life loopholes in their equally ridiculous films.
Moreover, making the hero a lawless vigilante isn't sexy or endearing. Neither does Joshi possess the charisma to plausibly pull this off, nor the acting talent to render the much-needed believability.
In fact, his character, which ideally should hold the film together, robs
Mumbai Mirror
of any sort of a moral epicentre, making it resemble a highly unrealistic tale set in a dystopian environment where you have nobody to root for other than the talented editor (some shots are actually very well-cut, transitions seamlessly done).
This is a terrible mishap of a film that doesn't hold a mirror to society, or the city, but rather stares at it with bloodshot eyes and a dagger in hand.
Rediff Rating: