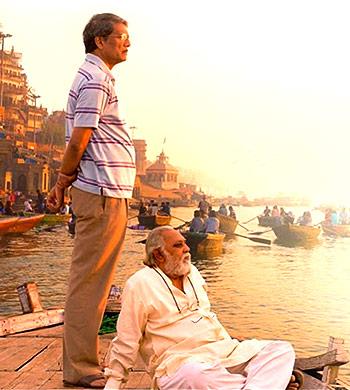 Mukti Bhawan is as much about its characters embracing the inevitability of death as it is about their loved ones grappling with conflicting emotions, writes Sukanya Verma.
Shubhashish Bhutiani's serene yet stirring Mukti Bhawan views the world with sagacious eyes and attends to one of its most inconvenient truths with a pinch of humour and pile of wisdom. What comes forth is craftsmanship of staggering depth and sublime vision.
Bhutiani's travels to Varanasi inspired him to tell the story of people, convinced of their imminent demise, lodging at an establishment exclusively designed for this.
Situated on the banks of river Ganga, Mukti Bhawan (Hotel Salvation), despite its dim, decrepit appearance, fulfills the requirement suitably.
As distressing as it sounds, the experience is by no means morbid. If anything, Mukti Bhawan is an uplifting slice of life aspiring to celebrate and not mourn the conclusion of a satisfactory existence.
Obviously, such profound understanding doesn't come in a snap. And so the custodian (a marvellously snippy Anil K Rastogi) of this peculiar organisation generously offers a processing period of 15 days, within which an aged candidate is estimated, if not always expected, to perish.
It's a decent deadline, he argues with the pragmatism of a trade pundit who's been in the business long enough to predict when someone's time is up and has too much of Varanasi in him to tell how, lest he loses his special gift.
Following a precognitive dream, 77-year-old Daya (Lalit Behl) persuades his disinclined and perpetually harried son Rajiv (Adil Hussain) to donate a cow and accompany him to the holy city of Varanasi in hopes of salvation. Mukti Bhawan refrains from being judgemental and treats it more with fascination than scepticism.
Against the backdrop of a unique, self-serviced guesthouse filled with scenes of dedicated kirtan sessions, declining quality of obituaries, futility of formalities and blossoming friendships over sublime boat rides, the father-son duo bicker, bond and achieve long-due closure.
The film dips into the city's timeless, thriving spiritual culture but doesn't go overboard splashing its clichéd imagery of devout Hindus and showy sadhus. Bhutiani prefers to focus on the pathos, captured (most stunningly by cinematographers Mike McSweeney and David Huwiler) in wistful contemplations of its oldest inhabitants and fierce visuals of incineration.
Mukti Bhawan is as much about its characters embracing the inevitability of death as it is about their loved ones grappling with conflicting emotions. After all, the 'process' of living is as essential as the inescapability of dying.
Only death comes at its own will, explains Vimla (Navnindra Behl, a lady of exceptional warmth and grace), a fellow dweller of Mukti Bhawan who's had ample time to prepare.
Burdened by personal and professional duties, Rajiv doesn't have the luxury to soak in her philosophy, revive his love for poetry or even notice his daughter's disillusionment.
Evocative of Piku in sentiment and Ankhon Dekhi in sensibility, Mukti Bhawan discards volubility for quieter storytelling or oversaturating its protagonists in quirk.
Instead, Bhutiani juggles emotion and practicality to skilfully extract real, relatable humour out of ordinary circumstances.
A Skype chat at a cyber cafe draws chuckles by way of shoddy internet connectivity, a formal visit turns into a spontaneous holiday to shop and sightsee when Rajiv's wife (Geetanjali Kulkarni) and daughter (Palomi Ghosh) pay them a visit -- there's a lived-in quality to their domesticity.
Mukti Bhawan benefits immensely from its cast of formidable actors and novice faces adorning its lyrical frames. They lend soul and sparkle to this little jewel of a film.
As the stoic patriarch conforming to traditional values, Lalit Behl is suitably understated in his obstinacy but overshadowed by the actor playing his reel son.
Adil Hussain leaves an unforgettable impression in the role of a middle-class family man bogged down by his earnestness to please his boss while exasperated by his demanding daddy and crotchety wife and inability to reach out to his daughter. Hussain's sympathetic understanding of an individual confronting his fear and limitations not only upholds the credibility of Bhutiani's delicate survey but also gives the impression of being simpler than it actually is.
As his worldly-wise significant other, she may no possess much depth or soul mate fodder but Geetanjali Kulkarni makes it well meaning enough not to be viewed unkindly. Bhutiani finds a perfect antidote to their complexities in Palomi Ghosh's radiant presence.
Death scares, but the journey to Mukti Bhawan is strangely elevating in its perception of life and beyond.
Rediff Rating: