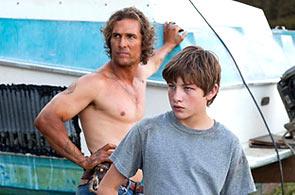 Jeff Nichols' Mud, with its lyrical storytelling, makes for a moving watch, writes Ankur Pathak.

After its debut at the Cannes Film Festival last year, Jeff Nichols' earnest film Mud has finally arrived in India.

A heartwarming story of two adolescent friends who come across a fugitive during one of their adventures on a remote island, the film's visuals are reminiscent of settings from a Mark Twain novel.

Mud stars two brilliant young actors -- Tye Sheridan and Jacob Lofland -- and a terrific Matthew McConaughey in the lead roles.

The trio shares an easy relationship but we get an impression early on that young Ellis sees more than just a middle-aged friend in Mud (played by McConaughey).

A tender relationship develops between the two over the course of the film and Ellis doesn't think of Mud any differently even when the young friends learn that Mud is a murderer.

Despite sinister bounty hunters chasing Mud, the boys set out to reunite him with his girlfriend who lives in a dingy motel in the same town as them.

Ellis's deep involvement in the tast comes from his inability to deal with his parents'
separation.
He is coming of age, has a crush on a senior girl from school and is at a stage where he doesn't want his faith in the idea of love to be challenged.
To ensure Mud meets Juniper (Reese Witherspoon, beautifully underplayed) is Ellis's way of reassuring his own notions of relationships. He does, however, go on to learn some unsettling truths.
The naive idealism is consequently replaced by the harsh realities of the world. The boat, which the boys had first spotted on Mud's island, becomes a symbol of adolescent escapades.
As much as Nichols' film deals with the collapse of a relationship, it also reflects the hopeful side of it, with a reassuring glimmer of hope.
And more than just a story, the film, with its vivid landscape, also gives us insight into the simplistic way of life in the rural Southern America, one that is rooted in traditions yet is keenly desirous of the urban way of life.
These various themes, incorporated with sensitivity and lyrical storytelling, make
Mud
a memorable and a moving film to watch.
Rediff Rating: