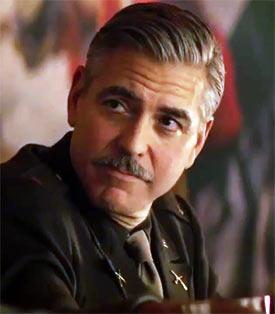 It seems exasperating that with this amazing story, George Clooney couldn't bring about a rousing, breast-beating, educative motion picture with The Monuments Men, rants Raja Sen.

O Soderbergh, Where Art Thou?

It's been seven years since Steven Soderbergh's Ocean's Thirteen, third in a series of films about over-complicated capers orchestrated by over-charming conspirators.

A minor film, certainly, and yet one containing much pleasure, thanks to the brilliant, beautiful, insanely talented cast rubbing their tuxedo shoulders together, playing off each other's riffs with expert ease.

The film offered nothing more than actors we loved having themselves an exotic ball, and yet we swallowed it because of Soderbergh's flair and lightness of touch.

I wasn't a fan but now I appreciate that film more than ever.

For George Clooney has taken an irresistible true story, cherry-picked actors we love even more than the Danny Ocean band, and made us wail for Soderbergh by making a clunker of a film suffocated by its own nobility.

The Monuments Men is about a gang of intrepid art-lovers who took it unto themselves to thwart Hitler's plans of plundering or destroying valuable art, and despite the obvious appeals of the story and the real-life heroes, the film flounders.

Unable to decide how jaunty it wants to be, it seems perpetually uncertain: uncertain of the war-movie broadstrokes, uncertain of the treasure-hunt jollities, uncertain of the serious drama.

The Monuments Men only appears sure of itself when sermonising, when Lieutenant Stokes (played by Clooney himself) stolidly lectures Presidents about the gravity of their mission. And that doesn't make a very fun film.

Stokes goes about recruiting people for this Hitler-heist, and his ragtag bunch of soldiers and civilians and architects and specialists, have but one thing in common: they love the art, and are willing to die for it. These Munificent Seven, if you will, are Matt Damon, Bill Murray, Bob Balaban, Jean Dujardin, Cate Blanchett, John Goodman and Hugh Bonneville, and with actors of such extraordinary pedigree it isn't surprising that they carve themselves some special moments. But they do so in spite of Clooney's disappointingly lumbering film, not aided by it.
As if by assignment, each actor gets a scene or two to do their thing, and each does magnificently.
Goodman wears his Army helmet at a playful angle, Bonneville cycles his way into momentary Catholicism rather touchingly, Jean Dujardin offers a horse a cigarette and Cate Blanchett gives Matt Damon a truly gorgeous necktie.
The film only gleams, however, when entrusted to Balaban and Murray, who masterfully conjure up some actual scraps of gold.
Balaban produces the greatest laugh when he traps some kids into saluting the Fuhrer after a deliciously tense but funny scene involving forgeries that look too good to be forgeries. And in the film's finest moment Murray is in the shower and stunned by the speakers suddenly playing a song his family sent him for Christmas, something Balaban has put on the public address system after Murray, not being able to find a record-player, has gone dejectedly to bathe.
It's an immaculate scene, with Murray -- wet and soapy, wonderment evident even through closed eyes -- at his best; a scene so good it ranks up there with those smashing Alan Alda shower scenes in the immortal M*A*S*H* television series.
The film, alas, never quite gets going, each of its parts -- both the great and the grating -- too disjointed to add up.
It feels more anecdotal than a film like this should, with Clooney's grey-moustached Lieutenant telling war-stories that just happen to involve people chasing art. There is no sense of drama, no prevailing suspense, no dread. It may be argued that true stories are seldom that cinematic, but then look at Argo (which Clooney produced): there is a mission and it succeeds unsurprisingly, but Ben Affleck's film is bursting with both drama and adrenaline.
Clooney's is the kind of film your grandfather might like but only because it shows off some artwork. Or he might nod off.
The artwork shown off in the film is the grandest.
Michaelangelo's Madonna, the Van Eyck altar-piece... all endangered by that manic failed painter who decreed that all art must be destroyed were the Germans to fall or he himself be killed.
'I have to hope no one kills Hitler,' says Dujardin, 'I never thought I'd say that.'
It seems exasperating that with this amazing story -- and, indeed, these stakes -- Clooney couldn't bring about a rousing, breast-beating, educative motion picture.
He's made The Monuments Men fondly enough to bring his father along to the party (dad Nick Clooney appears for one unmistakable moment) but affection or intent aren't enough. Neither is merely pointing toward greatness.
Such paintings, such sculptures, such little art.
Rediff Rating: