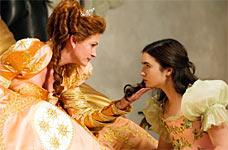 Tarsem Singh's Mirror Mirror doesn't just have a happy ending like all fairytales, it also has the Bollywood touch, writes Shaikh Ayaz.
While fairy tales rely on fantasy elements and use heroism to teach a moral lesson, they always begin with the stock expression 'Once upon a time…' and no matter how much of an ordeal the protagonists suffer, there is a tacit guarantee that a happy ending awaits them.
Mirror Mirror
, Tarsem Singh Dhandwar's (his full name appears in the credits this time) take on the fairy tale of Snow White, has not only a happy ending, but also the typical 'Bollywood ending'.
The song-and-dance routine seems like a carefully-planned homage to Singh's Indian roots. Carefully-planned because in no way does it appear to be an afterthought; instead, the clues are there right at the beginning when it is hinted that the people of this kingdom were once leading an ideal life, singing and dancing without any worry.
Julia Roberts as the wicked Queen is in a role that one typically doesn't associate with her. After the King's (Sean Bean) mysterious disappearance, his second wife, the Queen (Roberts) ascends the throne which legitimately belongs to the King's daughter, Snow White (Lily Collins).
Under
the Queen's rule, the kingdom is reduced to destitution, with people dying of hunger and poverty. Snow White is forbidden to step out of the palace. Once, she breaks the rule and sneaks out only to discover, to her distress, the state of her subjects. Before the Queen's vanity and cruelty causes any further destruction, Snow White, with a little help from Prince Alcott (Armie Hammer) and the seven dwarves, sets out to free the land from the wicked Queen's spell.
A film like this one could easily get bogged down by excessive use of visual effects and technical wizardry. But Singh keeps it as real as possible and employs these elements sparingly, like during the mirror scenes and the one in which Snow White combats the beast.
The landscape, like in all Singh's movies, is breathtaking. Keeping in mind its target audience, the language is a mix of casual and Queen's English. Roberts and Collins upstage everyone else, but a special mention must be made of Nathan Lane as the aide-de-camp, Brighton.
The dwarves should be a hit with the kids; one of them, appropriately named Grimm, goes on to write a book. Would that be Snow White and the Seven Dwarves…?
Rediff Rating: