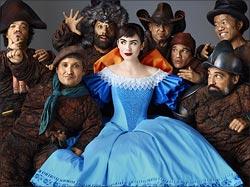 Mirror Mirror  is a sumptuous feast of grand sets, dream-like cinematography and some of the most fabulous costumes ever designed for a film, writes Aseem Chhabra.

Tarsem Singh Dhandwar is a genius. I do not say this lightly. I sensed that back when he directed the Losing My Religion video for R.E.M. in 1991.  Soon after he released the haunting Sweet Lullaby video for Deep Forest.  Those videos, plus his range of commercials makes this Sikh man, educated in Shimla, Delhi and Los Angeles, one of the most creative Indians in the business.
Add to that his three feature films.  There was a slight hiccup with last year's Immortals. Critics did not care much for it, but that film earned over $215 million worldwide, and Hollywood loves Tarsem for that.
His visual style is so unique and captivating that one often forgives him for lack of solid content in his films.  I especially saw that in his second film -- The Fall, a long fantastical story, narrated and visualized from a child's perspective, but the imagery so stunning that the viewer could get lost in its hypnotic dream-like texture.
"There is a particular pill that I ask people to take," Tarsem (as he likes to be identified) told me when I interviewed him at the time of the release of The Fall.  "If they don't find it, they cannot get into the film and hate it with a passion."
I did take that Tarsem pill earlier this week before the press screening of his new film Mirror Mirror. And I was truly charmed by the utterly delightful and fresh take on the classic fairy tale -- Snow White.  With this film Tarsem will definitely broaden his fan base from hip adults, to young children, parents who accompany them to the screenings and just about anybody else who is drawn to the magic of cinema.
Mirror Mirror  is a sumptuous feast of grand sets (the film is shot in a studio in Montreal), dream-like cinematography and some of the most fabulous costumes ever designed for a film.  As with his past films Tarsem once again collaborates with his regular team -- production designer Tom Foden, cinematographer Brenden Galvin and the very talented Japanese costume designer Eiko Ishioka, who unfortunately passed away early this year.
Ishioka won an Oscar for her work on Francis Ford Coppola's Bram Stoker's Dracula and she had designed costumes for a range of projects -- from Broadway shows (M. Butterfly and the current Spider-Man: Turn off the Dark) to Cirque du Soleil (Varekai). She was even the director of costume design for the opening ceremony of the 2008 Beijing Olympics.
In Mirror Mirror Ishioka's creative spirit can be seen everywhere as she takes off from where she left us in The Fall.  The gowns that she designs for Julia Roberts (the Evil Queen) -- resemble giant cakes with lots of frosting, in gold, in deep red and also in white, when the Queen is set to marry Prince Alcott (Armie Hammer).  Roberts is an intelligent actress with good enough talent and so she manages to shine in those scenes, even though she sometimes seems to be almost lost in the massive pieces of garments. 
Ishioka also designed elaborate costumes in white, including some very imaginative headgear for a number of extras in a ballroom dance scene; and another set of wild and very creative colorful costumes for the wedding scene -- with women's gowns so roomy, that the seven dwarfs keep hiding in them.
There is a lot more to Mirror Mirror, but Ishioka's rich costumes are characters themselves -- a rare feat for a film that is also riding on the  delicious performance of America's favorite pretty woman. The year has just begun, but the Academy of Motion Picture Arts and Sciences might as well wrap-up the best costume race and hand over the golden statue to whoever will be represent Ishioka and her memory at next year's Oscar ceremony.
In Mirror Mirror, screenplay writers Marc Klein and Jason Keller, displaying a keen sense of humor in their writing, take a lot of liberties with the Snow White story. Roberts's Evil Queen is not just interested in being the fairest and the prettiest in her kingdom. She is as much focused on the issue of power and who controls the kingdom and Roberts has a blast performing the role. Snow White (a lovely Lily Collins, who looks like a young Audrey Hepburn) is not just a meek, pretty girl. In a feminist twist she is shown to be strong willed and learns to fight her way to the prince's heart. 
And the seven dwarfs -- cute and lovable they are for sure (the group includes actor Danny Woodburn who appeared in a few Seinfeld episodes as Kramer's friend Mickey Abbott), but they appear as bandits who stand on tall slits and overpower their victims, as they now have the advantage of their false heights.
Mirror Mirror ends with an elaborate dance set to the song I Believe in Love. Growing up in Punjab, Tarsem had heard a cover of the song, as sung by an Iranian singer Googoosh. The original song is by Nina Heart. There is a very strong flavor of Bollywood in the song (now sung by Collins) and dance moves by the film's large cast. It is Tarsem's version of an item number and clearly something most Americans will be surprised to see. At the screening I attended, the jaded film critics who rarely stay for end credits stood still in the aisles completely mesmerized by the grand finale show.  
Mirror Mirror is a joyful affair is so many ways. I am glad I took that Tarsem pill. It suited me fine!

Rediff Rating: