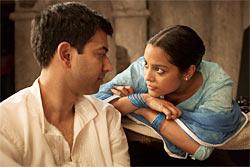 Midnight's Children is a must watch for people who've yearned to experience Salman Rushdie's iconic storytelling in a more accessible format, writes Nishi Tiwari.

I've come to know two kinds of book lovers.

The first kind constitutes of ardent fans of Salman Rushdie who have, over the years, devoured his novels and short stories -- deconstructing the liberal dose of magical realism in his stories and inhabiting the extraordinary worlds of his protagonists.

The others have despaired endlessly over not being able to read through any of his books (Rushdie is widely known as one of the most complex writers of his time).

It's little wonder then, that one of his most celebrated works, the 1981 novel Midnight's Children had largely been termed unfilmable.

Yet, as you sit through Deepa Mehta's film adaptation of the novel, it becomes increasingly clear that Rushdie, who spent his boyhood watching some of the greatest films of the time in Bombay, was of a different persuasion.

Even though he has admitted to having to let go of some key scenes as he wrote the screenplay, he's done a fine job of adapting his protagonist Saleem Sinai's life story for screen.

The film opens in Kashmir as Saleem's maternal grandfather Aadam Aziz, who's a doctor, wades through the Dal Lake to attend a house-call.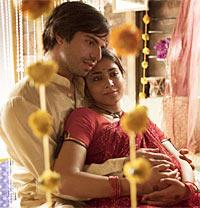 A much older Saleem (voiceover narration by Rushdie himself) -- presumably in his 60s -- describes his grandfather's exceptionally large nose in humorous detail.

He proceeds to recount the events that led to his mother Mumtaz/Amina's marriage to Ahmed Sinai and his birth in Bombay at the stroke of midnight on August 15, 1947 as Pandit Jawaharlal Nehru led his newly independent country into an era full of hope and grand possibilities.

The elated new parents bring their bundle of joy in their new house -- a palatial South Bombay house, formerly owned by an Englishman named William Methwold.

What ensues is a serendipitous life for the Sinais as young Saleem (Darsheel Safary in an impressive turn) discovers his supernatural capabilities of communicating with other midnight children from all across the country while his parents grapple with a life-altering revelation.

Saleem is sent away to Karachi to live with his maternal aunt Emerald and her Army officer husband Zulfikar.

Unlike the book, Mehta's Midnight's Children follows a linear narrative and makes for an engaging, tightly written first half.

While Rajat Kapoor as the pensive grandfather fits the bill, Shabana Azmi shines as Saleem's overbearing and dramatic grandmother Naseem.

There are only two jarring characters in an otherwise good lineup of actors -- Rahul Bose's Zulfikar and Sathya Bhabha's Saleem Sinai.

Bose's portrayal of an army man with a comic air of self importance does make you snigger but it soon becomes clear that it's the actor you are laughing at for his sheer inability to pull it off and not at the character.

And while the breathtaking Shriya Saran and ruggedly handsome Siddharth play their parts ably as the other key children -- Parvati and Shiva respectively -- of the momentous midnight, it's Sathya Bhabha's Saleem that lets you down.

For a protagonist, he displays fewer genuine emotions than one would have liked.

The film's second half succeeds in the sense that it makes us despair a bit -- all the good things that the first half promises don't really materialise in the second, much like the disillusioned Saleem and empty hopes of post-Independence era India.

Parvati and Shiva's back stories have been done away with to suit the film format.

What you get for the bargain is a hauntingly melodious background score and magical shots of celebratory fireworks, moving snapshots from a war-ravaged Bangladesh and Saleem dancing to Aao twist karen with younger sister Jamila.

Midnight's Children is a must watch for people who've yearned to experience Salman Rushdie's iconic storytelling in a more accessible format.

Rediff Rating: