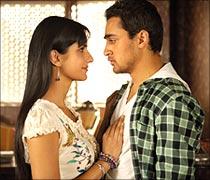 Sukanya Verma feels Mere Brother Ki Dulhan is pretty ordinary fare. Post YOUR reviews here!

Seriously, triple cute sundae, anyone?

Ever noticed the similarity between Imran Khan, Katrina Kaif and Ali Zafar? All three look younger than they are and bear an incredibly fresh, genuine and genteel disposition. They're easy on the eyes and pleasant enough to make the most banal look bearable.  

First-time filmmaker Ali Abbas Zafar avails of these qualities to fashion a feel-good, melodrama-free, candy floss rom-com about two brothers and a mutual love interest. In dreaming a picture perfect visual, however, Abbas Zafar overlooks one rather critical technicality. Script.

Mere Brother Ki Dulhan tries hard to do a Hrishikesh Mukherjee in a Yash Raj set up but is held back by a middling script that banks excessively on charisma, camaraderie and a common malady among present-day aspiring filmmakers -- fanboyism. And while the references from RD's retro chartbusters to Dabangg's clout are all very nice, it's not novel any more.

But, here, since Imran Khan's character, Kush, is an assistant director in Bollywood films, Zafar has a convenient excuse to insert some gags and gimmicks that hat tip to Sholay, Mughal-E-Azam, Dil Se and, sure enough, Dilwale Dulhaniya Le Jayenge.
Odd then how it's Katrina's Dimple Dixit, perhaps a symbolic cross between two of Bollywood's most beautiful leading women -- Dimple Kapadia and Madhuri Dixit, who emerges as the most 'filmi' protagonist in this mostly harmless fluff. As a happy-go-lucky, guitar-strumming rock chick in tattered jeans and tank tops, Dimple's no Joan Jett but an ideological cousin of Chaalbaaz's Sridevi. A high fashion jaanwar, according to Imran, her idea of liberation is getting sloshed; ambition translates to marrying an affluent, good-looking NRI.
And that's where London resident Luv (Ali Zafar) comes in. His reasoning behind asking kid brother Kush to bride pick is, 'We both loved Madhuri Dixit as kids. You know my choice.'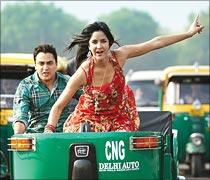 This awkward conviction sets the tone for a part-doddering, part-amusing premise, which works in bits and parts largely because of Katrina's endearing spontaneity. Dimple is a decidedly more madcap extension of the girl she portrayed in Namaste London.
The dainty star's free spirited delivery is akin to the gullibility and mischief of six-year-old mouthing inanities without knowing what they really mean. That's one of the most rewarding aspects of being a success in Bollywood. It lets one's greatest disadvantage become their most defining characteristic.
As the maverick Dulhan-to-be, Katrina overshadows her co-stars and a lumpy screenplay by lending her uninhibited fervor to some of MBKD's funniest moments. Like when she breaks into an extempore shehnai rendition from Swades or plays a rapid fire round with a prospective suitor prompting him to remark, 'Shaadi ke interview mein mujhse Koffee with Karan khel kar chali gayi.'
She makes a cute pair with Imran and Ali but Abbas Zafar doesn't allow their chemistry to blossom fully, short changing it to insert some, too many in fact, gorgeously choreographed Sohail Sen compositions. You anticipate a hint of intimacy to show up but it never does. As for Kat's co-stars, Imran is in his comfort zone -- stepping out in yet another Mr Nice Guy suit, which is, more or less, identical to the one he wore in I Hate Luv Storys and Break Ke Baad. There's nothing to nitpick or admire.
On the other hand, the dashing discovery of Tere Bin Laden hams like his life was at stake. Ali's got lesser scenes than a recurring plate of samosas in the film, yet he manages to grate with his exaggerated exasperation and orgasmic groans.
At the end of the day, Mere Brother Ki Dulhan is a pretty ordinary effort. It's the kind of movie where everyone looks catalogue cool and beams with enthusiasm to make the going-ons appear droll and exciting. And though one's a sourpuss for not buying it, I'll take the risk of being one.
Rediff Rating: