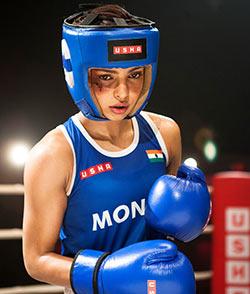 Mary Kom is a victory for its protagonist Priyanka Chopra, scriptwriter Saiwyn Quadras, and director Omung Kumar, says Laxmi Negi, a former boxer.

How many times has a movie touched people in a way that they cried with the characters and rejoiced with their victories?

And how many times do they recite the national anthem when an athlete wins yet another gold medal, the country's flag goes up in the stadium and makes the audiences' chest swell with pride?

Mary Kom, the boxer has done it many times, and now Mary Kom, the movie, truly packs a punch.

The fighter, who hails from a region which is struggling to make its presence felt on the national map, entered a male-dominated sport and wrote her name in the annals of history with the aid of 'chai and kela (tea and bananas)' from the federation.

Mary's story is that of an underdog's.

It is a measured movie, deeply drawing us in with its protagonist, played with immense feeling by Priyanka Chopra.

Mary's story is delivered with a sincerity that makes it irresistible.

Let's break this movie up in boxing bouts:

Round One: A pregnant Mary Kom in the opening scene kicks off the story on a poignant note.

The well-written script ushers the audience into the four-roped square of Mary Kom's world.

The words leave a mark when her 'Coach Sir' (Sunil Thapa) asks her to forget that the world is round because for her, it will be square which symbolises the boxing ring.

When Mary Kom is fighting with the boys in her village and vying for the coach's attention -- it may remind you of boxing films like Million Dollar Baby. But believe me, it is the only resemblance you will spot between Mary Kom and any other film based on boxing.

Indian women boxing's most iconic figure, the magnificent Mary Kom, through Priyanka Chopra, ultimately lands with the force of a knockout punch.

Priyanka manages to get under the skin of her character and justifies just why someone would make sacrifices to excel.

With great makeup, the actress resembles the real life boxer in many scenes.

The film also displays great attention to detail in its setting -- from a simple village of Manipur to Mary's school and boxing hall where she trains.

Even though Priyanka dominates every scene in the film, her coach (Sunil Thapa), and husband -- played by debutant actor Darshan Kumar -- makes their presence felt with their honest performances.

Just like Mary Kom, the boxer, the film's plot takes care that Priyanka talks less and 'pights (fights)' more.

Round Two: She is married with twins and her boxing career has vanished into oblivion.

Although her husband defies all odds to support her boxing aspirations unlike her father, the road to success is less than rosy.

There is great regard shown to the Manipuri culture -- the Manipuri song playing in the background when Mary is fighting her personal demons -- adds depth to the moment.

Round Three: Mary lands at her Coach Sir's doorstep to receive training again.

It is then that he mutters the best lines in the movie and drapes a Manipuri shawl around Mary, saying -- a woman becomes doubly powerful after she gives birth and so they will have to work hard doubly too.

All the workout sessions in the gym have finally paid off as Priyanka looks all beefed up in the movie.

With her training in place and bidding a bitter goodbye to her children, Mary is all set to recreate history in a packed stadium with braying audience. That she wins the title is known to us, but Priyanka's performance in that sequence is worth the watch.

As the movie progresses, Priyanka starts boxing well and towards the last bout shown in the movie, she tries to replicate Mary's moves in the ring.

Full credit goes to Saiwyn Quadras (the scriptwriter) -- it was his idea to make a film on Mary Kom.

Director Omung Kumar showcases flair with his very first movie.

Result: Only time will tell if the movie will be a hit or a flop but Priyanka has surely emerged as a better boxer.

Rediff Rating: