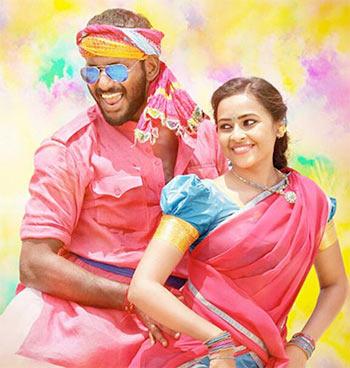 Marudhu will give you a headache, warns S Saraswathi.
Director Muthaiya is known for his films on relationships steeped in extreme violence with an overdose of emotional drama.
His films are set in rural backdrop, and his heroes, be it Sasikumar in his debut film Kutti Puli, or Karthi in Komban and now Vishal in his latest venture Marudhu, all believe in hitching up their veshtis (dhoti) high above their thighs to reveal their underwear in a show of macho strength.
They are never without their aruval (curved sword), but have great regard for the womenfolk.
Vishal, who plays the titular role Marudhu in the film, is a petty labourer, who worships his grandmother (Kulappulli Leela). She has single handedly brought him up after the death of his parents.
Pailwan (Radha Ravi), the village bigwig and his right hand man Rolex Pandian (producer RK Suresh) terrorize the villagers.
Meanwhile, a chance visit to the temple brings Bhagyalakshmi (Sri Divya) into Marudhu's life. One look at the pretty Bhagyalakshmi and Marudhu's grandmother decides that she would be the perfect wife for her grandson.
We have the regular boy-chase-girl routine with a couple of unremarkable songs and some comedy thrown in before things begin to get serious again.
Bhagyalakshmi's father is a lawyer, who is entangled in a murder case against Rolex Pandian. As the case draws to a close, there are several attempts on the life of Bhagyalakshmi and her father.
The first half of the film ends with a revelation about the case that surprisingly has Marudhu's grandmother involved. How the invincible Marudhu decimates his enemies forms the rest of the story.
Vishal with his crew cut, and bulging biceps with tattoos of lions and tigers, cuts an imposing figure. Producer RK Suresh makes a worthy adversary but the narration is marred by unnecessary songs and a romantic angle that just does not work.
There is little for Radha Ravi to do, but Soori and Malayalam actress Kulappulli Leela, who plays Vishal's grandmother in the film, have been given a meaty role and they give good performances.
Cinematography by Velraj is excellent, but the loud, over-the-top music by D Imman seems to dramatize every situation.
Director Muthaiya does deserve full credit for creating strong women characters in all his films.
Kulappulli Leela is impressive, but Sri Divya does need to work on her angry look, she looks far too innocent for her daring act.
With a rather ordinary script and unremarkable execution, coupled with the endless chasing scenes, the excessive violence and melodrama, director Muthaiya's Marudhu only gives you a headache.
Rediff Rating: