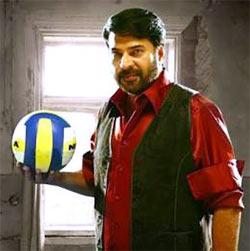 Manglish is a typical star vehicle that does not deserve a critical dissection, writes Paresh C Palicha.
Until recently, Malayalam cinema was overly dependent on superstars, with directors developing scripts revolving around them. 'New generation' films brought in fresh blood and the frequency of super star films is now down to a trickle.
Manglish starring Mammootty, however, sticks to the old practice and revolves around the persona of the super star.
Director Salam Bappu plays it safe by catering to the fan base of the star, putting in every ingredient that brought him a huge following.
There are smart cooling glasses, peculiar lingo, some comedy scenes and action. His character of the hero is the focal point of the film and the story comes in a distant second.
Mammootty is Malik Bhai, a classy fishmonger whose circle of friends include politicians and film-stars. He is said to be the uncrowned king of Kochi as no land deal can be made without his approval.
He is divorced from his wife, a rich politician's daughter, who left him under pressure from her father.
An Englishwoman named Michelle (Caroline Beck) comes under Malik Bhai's protection. Our man does not know a word of the Queen's language, thereby creating many so-called humorous situations that are worth hardly a chuckle.
There is an effort to make the story interesting by giving Michelle's story a twist; she is something more than just an overstaying tourist. She has come to protect her ancestral property that was taken over by the caretaker after her ancestors left India.
As this film is a star vehicle, there is no use dissecting the performances of the other actors. Tini Tom puts in an appearance as Malik Bhai's right hand man, Vinay Forrt as an English speaking tourist guide and Sudheer Karamana is the husband of Malik Bhai's divorced wife.
Caroline Beck, the Dutch actress playing the blonde damsel in distress, just passes muster. Srinda Ashab as Mumtaz, the younger sister of Malik Bhai, gets a better opportunity to display her acting talent than the leading lady.
Manglish is a typical star vehicle that does not deserve a critical dissection.
Rediff Rating: