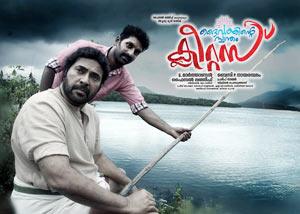 Even a brilliant performance from Mammootty cannot save Daivathinte Swantham Cleetus, says Paresh C Palicha.

Mammootty gives his superhero image a rest in his new Malayalam film Daivathinte Swantham Cleetus, directed by newcomer G Marthandan and scripted by Benny P Nayarambalam.

He plays a small-time goon, who is selected by a priest to play Jesus Christ in a fund-raising programme for the church.

Cleetus (Mammootty), surprises the priest (Siddique) by his uncanny resemblance to Jesus Christ in looks and mannerisms -- the serenity, stillness and glow on the face. His real self comes to the fore during rehearsals. The fact that he is in the business of breaking bones and killing people for money is revealed, yet the priest decides to persist with him in the belief that the experience of performing the noble character will lead to his transformation.

The first half has some hilarious moments with the ensemble cast of young Aju Varghese, Thesni Khan, Suraj Venjaramoodu and P Balachandran. The humour has the rustic touch of Benny P Nayarabalam with some inside jokes on ageing superstars wanting to be leading men and the Malayalam film industry in general.

As the rehearsals of the Biblical story progress, Cleetus has flashbacks of the crucifixion and resurrection. Unfortunately, these look not profound but plain pedestrian.
There's a relationship with a single mother (Honey Rose) with a mysterious past. And Cleetus finally owns up responsibility for a heinous crime in the past and is thereby absolved of it.

The technical aspects are good, particularly the camera work by Pradeep Nair, but the content doesn't match.

Fans of megastar Mammootty will be happy with his performance, beginning with comedy, then moving to superhero action and culminating in emotionally intense scenes. But good acting is not enough to make up for a vapid plot and content.

Rediff Rating: