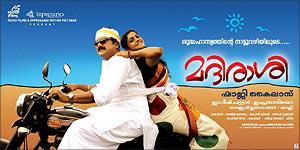 Paresh C Palicha says that the comedy in Madirasi falls flat.

Jayaram made 'family comedies' in his heyday and today, he is trying to recover lost ground by employing the same formula that worked for him decades back.
He has joined hands with director Shaji Kailas, who made a killing by making action pot-boilers with superstars as super heroes. Their new venture,
Madirasi,
is a comedy that has action, a virtually omnipotent hero, and a villain who spews evil with his every breath (it goes without saying that he is a powerful Tamilian who calls our hero 'Malayali').
Chandran Pillai (Jayaram), residing in a nondescript place on the Kerala-Tamil Nadu border, is an 'all in one' package: farmer, local doctor, financier and much else.
He is a widower with one son. Bhama (Meera Nandan), a woman half his age is smitten by him. She is Chandran's son's teacher and her one wish is to bear more of Chandran's children (where are the feminist flag bearers?).
Events take a turn for the worse when Chandran and his Man Friday Jayapalan (Tini Tom)
land up in Kovai to buy a racing cycle costing a couple of lakhs for Chandran's son from Madirasi Cycle Store.
They get into trouble when they save a kid in a hit-and-run case, which eventually brings them in direct confrontation with policeman Devaraman (John Vijay), who is a gang lord in police uniform.
Rajesh Jayaraman's script is weird; it does not give the actors any chance to do anything fresh. It has much in common with the M Padmakumar directed Thiruambady Thamban, with Jayaram in the lead, released just a few months ago. The only difference is, the villain was a politician in that film and here he is a policeman. There are many more similarities between the movies.
The two female leads, Meera Nandan and Meghna Raj, are given the responsibility of handling the humour, which itself is laughable. Tini Tom retains some dignity as he is not slapped all the time by the hero as usually happens in films like this.
Whatever may the intentions of Shaji Kailas and Jayaram,
Madirasi
is a stale film.
Rediff Ratings: