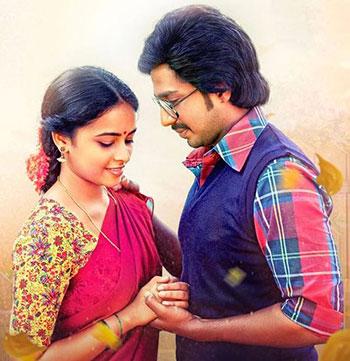 Unnecessary songs mar the narrative flow, writes S Saraswathi.
Despite what the title suggests director Suseenthiran's latest offering Maaveeran Kittu is not based on Liberation Tigers of Tamil Eelam leader Sathasivam Krishnakumar, better known as Kittu.
The reel-life Kittu (Vishnu Vishal) is a Dalit youth fighting against all odds to become an IAS officer. He finds his biggest strength and support in Chinnarasu (Parthiepan), a social activist, who is fighting the rampant caste discrimination in their village.
Set in the backdrop of the 1980s, this divisive caste system prevalent in our country forms the core of Maaveeran Kittu.
Life is a continuous struggle filled with indignities and humiliation for Kittu and Chinnarasu and one of their biggest battles is the right to use the same streets as those of the upper caste. Even a journey carrying their dead to the graveyard is a six-kilometer-long hike around the village.
Kittu is their only trump card, a means to earn some self-respect in a society, where even the courts and cops seem to be conspiring against them.
One of their biggest nemesis is the village Inspector Selvaraj (Harish Uthaman) and his cohorts from the upper caste, who believe they deserve no rights.
Matters come to a head when Kittu and his friends are arrested on a false murder charge by Selvaraj.
All their hopes of having a collector from their community come crashing down.
The second half of the film is all about whether they can rise together to fight this injustice or are they destined to suffer forever.
Parthiepan is subtly impressive, while Vishnu gives an earnest performance.
The film does highlight the plight of the lower caste in our country, but unfortunately you feel no connect to the characters who end up as mere actors playing a very righteous role. But that is not to say that the incidents portrayed in the film are unfamiliar.
Every scene strikes a chord, makes you realize how even the most basic rights have been denied to the lower-caste people in our country for centuries.
Honour killing forms a significant part of the film and there are no prizes for guessing that love blossoms between Kittu and the upper caste village belle Gomathi (Sri Divya).
Sri Divya appears perfect for the role, but has not much to do. Unnecessary songs mar the narrative flow, while the background score by D Imman has a poignancy that is sadly not backed by powerful scenes.
The focus of the film has been only on listing out the issues, rather than showing how this utter degradation affects them.
Regardless of director Suseenthiran's best intentions Maaveeran Kittu is an unremarkable period drama that fails to touch your heart.
Rediff Rating: