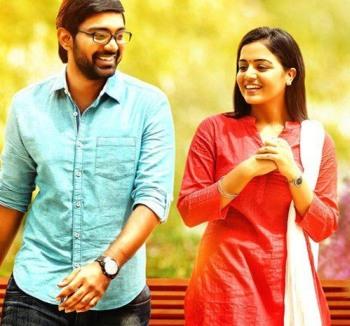 Selvaraghavan has yet again scripted a bold tale of love, pain and turmoil, but has spoiled it by getting overly dramatic, feels S Saraswathi.
Director Selvaraghavan's wife and former assistant director Gitanjali makes her directorial debut with the romantic drama, Maalai Nerathu Mayakkam (MNM). Scripted by Selvaraghavan himself, the film has been in the pipeline since 2006.
After endless delays and several cast changes, the film finally made it to theatres this weekend.
Had it released back then, the film would have been the third in the series of Selva's unconventional love dramas following Kaadhal Kondein and 7G Rainbow Colony.
It is not just his script that defies conventions, but also his characters. They are not your regular macho movie heroes, supremely confident and irresistible, but rather ordinary guys, confused and insecure.
Be it a deliberate attempt or a coincidence, the protagonist in MNM, Prabhu (Balakrishna Kola) bears an uncanny resemblance to Selvaraghavan. With his neatly parted hair, unruly beard and large framed glasses, Prabhu is a simpleton with an almost non-existent social life.
Though he hopes to fall in love with the beautiful girl of his dreams, he has no such luck. He is forced to marry a girl of his father's choice, Manoja (Wamiqa Gabbi). Fortunately for him, she turns out to be even more beautiful than he could have hoped for.
What he does not realise is that Manoja is only marrying him to keep her mother, who is suffering from cancer, happy. Mano is an modern girl with a lot of boyfriends, and who prefers to keep her relationships platonic.
She hates Prabhu on sight and the couple begins their married life in separate bedrooms. Mano predictably falls sick, and a devoted Prabhu nurses her back to health. Even as their relationship slowly begins to thaw, one night in a drunken stupor Prabhu rapes Mano.
A furious Mano applies for divorce, leaving Prabhu heartbroken.
Can he win back her affection?
The answer lies in the second half of the two-hour long film that is loaded with songs.
Selvaraghavan has yet again scripted a bold tale of love, pain and turmoil, but spoiled it by getting overly dramatic. Temperamental and insecure, the characters remain true to their nature, but appear to be deliberately put into situations to hurt each other with clever dialogues.
For instance, when the couple goes out for dinner; they are met by three of Manoja's ex-boyfriends. And while Manoja is made out to be cold and unfeeling, Prabhu ends up being some kind of martyr.
Gitanjali Selvaraghavan's Maalai Nerathu Mayakkam is a far cry from your regular love stories and their phony over-top-characters, yet as you leave the theater, you feel strangely untouched by the director's attempt at an emotional assault.
Rediff Rating: