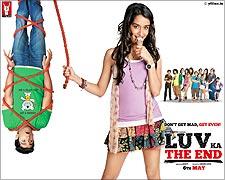 Ankur Pathak reviews Luv Ka The End. Post YOUR reviews here!

Like it is with all films that revolve around a college campus, we should just surrender to a pool of cliches with this one too.

Rhea (Shraddha Kapoor) is your quintessential cutie, who's on the verge of turning 18, and has extravagant plans for the D-day. She's dating college hottie Luv (Taaha Shah). He's an archetype of a college heartthrob, equipped with an awkward accent and a couple of chamchas as he belongs to a Billionaire Boys Club.

Just before Rhea's D-day, she spots Luv -- who she's already dreamed of marrying -- canoodling with a college rival at a city hotspot. Instead of retiring in a cocoon, she makes it her business to have an adventurously memorable 18 by making life hellish for the Casanova.

Now the execution of the desperate quest is what forms the body and the core crux of the film. It essentially is a chick-flick and makes no pretence in being so (No man can enjoy a Jaguar being mercilessly crushed by a trio of lasses).
Where the film delights is in the even manner the characters are sketched. They are the archetypal collegians, no doubt. They seem to represent an institution too idealistic -- like the stud with enviable cars and girls to match, the professor who's a fantasy to many students, the horny fatso, the instantly likeable chubby classmate who's more than occasionally witty, the health conscious, model demeanour-ed sidekick. It is but assumed that the presence of these many of them in a youthful set-up is inevitable.
But they aren't necessarily annoying, on the contrary, although they are an exhausted bunch where are films are concerned, their eccentricity and feeble humour, are both a treat to witness.

Another point of glory for the film is the vibrancy which never dims even for once. Many of the ploys that the girls employ are absurd, and might seem impossibly ludicrous, but nevertheless they evoke a weird sense of humour that switches from being witty to unintelligent yet laughable at all times.

Ashish Patil's (he makes one appearance) story isn't peculiarly outstanding, and neither is Bumpy's (he makes one too) direction that is mind-blowingly riveting. It is simply the film's premise you thoroughly enjoy, without helping yourself in comprehending the 'how's'.  

It is perfectly alright in unapologetically having fun over frequent gags, performances that are unexpectedly above mediocre, and production designs that with grandeur create a make-believe world, more fantasy than anything, without coming across as being too fabricated, or superficially conjured.

A revenge film of a confounded girl who's yet to hit adulthood, and in the course is cheated disturbingly by a richie-rich, Luv ka the End, assumingly, might be endorsed by every girl, or women who's ever been misled by a womaniser.

It is moronically absurd to even give it a thought about the pragmatic implication of what Luv Ka The End suggests, but it surely might be a woman's fantasy to make his ex-playboy-boyfriend to itch down there when on another date, get his credit expired as he looks sheepishly when the cheque arrives, and what's more, let his best buddies doubt his sexual orientation.
Thus, the film succeeds in achieving a sophomore girls' bustling rage, transformed into physical, mental torture for the double-dealing man. 

Shenaz Treasuryvala and Roye Seagal's screenplay is innovatively penned, and maintains a steady pace although a few elements, hastily added toward the end, are a tad comical and too sugary. But that is acceptable as the movie isn't attempting to be heavily loaded with life-altering messages.

The film's clear inspiration from the American teen-comedy, John Tucker Must Die, and slightly Mean Girls, isn't escapable, but bluntly visible.

The biggest downer is perhaps the performance by the lead star, Taaha Shah. He has the looks but when it comes to saying the lines, he can't help but look that he's rehearsed it innumerably, and unsuccessfully.
Moreover, being the elite, slapdash, it's trying hard when he says, 'babez, chill'. An annoying accent, even if it is authentic, he makes 'birthday' sound like 'birday.'

Shraddha Kapoor has a charming screen presence, and though she's not a proficient actor so far, she is above average as the conflicted girl with a stubborn motive. Also, the supporting cast especially Pushtie Shaktie as the plump supporter induces laughs.
Casting Archana Puran Singh, who is the over the top, trying hard to blend with the 'yo' people mother-cum-love-counsellor is a cheesy yet appropriate choice, pretty much like Jenny Mccarthy in John Tucker.
Luv Ka The End, because of the cleverly written characters and their traits, manage to bear realism even in its highly unrealistic context. The dialogues, as well as emotions extracted and portrayed have an uncanny vulnerability to legitimacy which is remarkable.

Although it still remains a frivolous, musical-comedy -- influenced partly by real teen and partly assumed adolescent sense, which is magnified dramatically and cinematically liberalised.

It makes for an engaging, fun, and an enthusiastic outing. Easily forgettable, momentarily enjoyable, youthfully relevant, relishing such cinema once in a while is not a crime after all.

Rediff Rating: