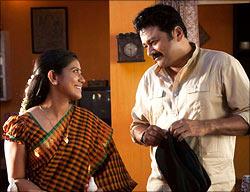 Paresh C Palicha feels if a little more thought had been given to how the film should progress in the second half then Lucky Star could have been better.

Adman turned director Deepu Anthikad tries to explore surrogate motherhood and the legal complications that arise out of it in his film Lucky Star. His trusted star, Jayaram, plays the lead in the film.

Ranjith (Jayaram) is a small time tailor in Chennai supplying costumes to the film industry. He had come here to become a star in Malayalam films. After struggling for years in minor roles, he marries Janaki (Rachna), another junior artiste.

Ranjith dreams of starting a readymade garment factory with a loan that is yet to be approved. The two have planned their lives as if their dream has already come true. They admit their daughter to an upmarket school.

Then things begin to go downhill.

The tempo is somehow maintained with the entry of Mukesh as infertility expert Dr John Chittilappally searching for a beautiful lady to be a surrogate mother for his Indo-American
clients. Janaki is his choice and she is ready to lend her womb for a price that will pay for her family's dreams.
The first half ends on a high note inspired by a much publicised real life incident. But the second half makes one feel that the director had a story only for the first half and the second half meanders on without doing justice to the build up of the first half.
No attempt is made to build on the odd situation created at the end of the first half; instead, it is glossed over.
Jayaram gives a good performance as the excited and involved Ranjith. Rachna as Janaki displays a verve that we rarely see in leading ladies today. Mukesh is made to do a standard comedian's role.
One leaves the theatre feeling that Lucky Star could have been a much better film if a little more thought had been given to how the film should progress in the second half.
Rediff Ratings: