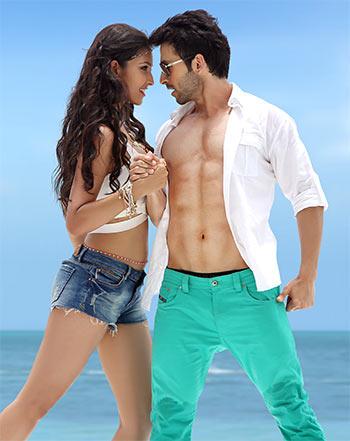 Have a party at home? Aelina Kapoor recommends the Loveshhuda soundtrack.
Loveshhuda introduces a new kid on the block Parichay to put together the songs for the film. He also writes the lyrics along with Kumaar and Manoj Yadav.
Does he do a good job? Let's take a closer look.
Mithoon comes on board for the song Mar Jayen. He, along with lyricist Sayeed Quadri, spins a song for the lovelorn protagonist, who is pinning for his loved one.
The song is a welcome relief in these times when love songs have become a rarity.
Atif Aslam sings from the heart, and ensures that the song remains on your mind. This one deserves to be played on loop, even though its remix version is best avoided.
Vishal Dadlani enjoys his stint behind the mike. He, along with Parichay, have 'dhamaal' with Peene Ki Tamanna, an obvious take off from Aaj Phir Jeene Ki Tamanna Hai from Guide. Peene Ki Tamanna is fun while it lasts.
There is sweet innocence of a different kind in Parichay and Neha Karra's Dono Ke Dono. Though this is also a party number, it has a cute banter between the couple, as they go about celebrating the YOLO [You Live Only Once] factor in their lives.
Good pace and club arrangements further help as the song goes ahead seamlessly in its four-minute duration.
Punjabis Neha Kakkar and Gippy Grewal are the apt choice for Chitta Kukkad which takes forward age old Punjabi celebrations. This is peppered with some funny lyrics in Hindi, Punjabi and English which cater to Generation X. But one wonders if the song would have made for an even better hear had the arrangements been desi right through, instead of the Western elements.
Total Talli is like a sequel to Peene Ki Tamanna. It's on the same lines as the male protagonist gets ready to get drunk and not allowing a single 'boond' in the 'botal'.
Play this soundtrack when there is a party at home!
Rediff Rating: