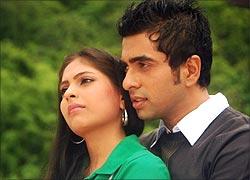 Love Recipe is a sure-footed recipe for disaster, writes Shaikh Ayaz.
In a rather self-conscious manner, this film nods to the Priyadarshan-style anarchy and confusion in the plot but in truth, it's more like a C-movie version of his signature comedies (I mean it as a tribute to Priyan).
The confusion here is over a severed head of a man who looks like the poorest cousin of Bob Christo. The trouble is not that director Amol Shetge chooses to create comedy over a big-sized, bald man's severed head because in the end, all is fair in humour and if you recall, the corpse farce in
Jaane Bhi Do Yaaro
is the finest example to cite. The cause of real trouble is how ridiculous and absurd the situations are and the sadder fact is that this absurdity dominates much of this film, without any respite whatsoever.
If you still care, here's making some sense of the nonsensical plot. Pratap Singh (Manoj Joshi) is a retired top cop who loves all things Indian.
And for some very stupid reason, he is against love marriage. So, when his daughter Tia (Rani Agrawal) falls in love with DJ Rahul (Suhail Karim) and his son Pappu (Vrajesh Hirjee) brings home an Italian
bahu
, it becomes imperative to lay the ground before they tell him the truth.
On another side, there is a love story between a South Indian female cop and her Marathi colleague, both devotees of Rajinikanth. If you still didn't get the connection, Rajinikanth is a Marathi who, having achieved stardom in Tamil cinema, made Chennai his home. 
Practically all the ingredients in
Love Recipe
are flavourless. It offers nothing but consistent hamming (Hirjee's among the worst on display), terrible writing and tacky humour. The actors are simply sleepwalking through their roles or they just don't have it in them. I haven't consciously mentioned Upasana Singh yet to save you, dear reader, from third degree torture. If at all, this film is a sure-footed recipe for disaster.
Rediff Rating: